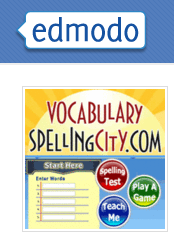 My plans are to use it with my students next year as another way to connect.
(PRWEB) June 08, 2011
VocabularySpellingCity.com is proud to be among the digital content publishers who have formed their own communities on Edmodo.com, a free social networking site offering teachers and schools a safe and secure environment to engage students and share materials with one another. In just the past few weeks, VocabularySpellingCity's Edmodo Community membership has grown to nearly 200.
"I have been so excited to be a part of Edmodo," says Cara W., an elementary school teacher who recently joined VocabularySpellingCity's Edmodo community because she uses it in her classroom. "I am definitely still a newbie, but I learn something new every day. My plans are to use it with my students next year as another way to connect."
Edmodo allows teachers, students, and schools to take advantage of the endless possibilities of social networking, all within a safe and secure online environment. Whether to find a word list on VocabularySpellingCity, manage student assignments or connect with other teachers, Edmodo is available on both computers and smart phones, making real-time interaction possible.
"Being a member of VocabularySpellingCity's Edmodo group has helped me make better use of it in my classroom," says Paula N., a VocabularySpellingCity community member and 4th grade teacher. "Members are great about sharing links and tips, and I've learned how other teachers use them in their classrooms.
VocabularySpellingCity's Community page is more than a networking opportunity for like-minded teachers. When new features and resources (such as the Analogies Resource or Compound Word lessons) are released, members can engage directly with the developers with suggestions and recommendations. From the VocabularySpellingCity Community, feedback is heard and often used to improve our online vocabulary and spelling tool.
"I started by posting VocabularySpellingCity links and replying with ideas, but the more I get into it, the more I find that will help me daily in my classroom," says Cara W. "That's one thing I like about this… not only do I feel like I am helping VocabularySpellingCity (which I love), I am given multiple opportunities to improve my teaching."
Join VocabularySpellingCity's Edmodo Community at
http://www.edmodo.com/publisher/VocabularySpellingCity.
VocabularySpellingCity.com is a top 1000 site in the U.S., reaching over 2 million unique users per month according to Quantcast.com. It offers a fun and easy way to practice spelling words and vocabulary. It was created and is currently owned by Vkidz Inc, a family-owned educational software company dedicated to creating "game-changing" educational systems.
# # #