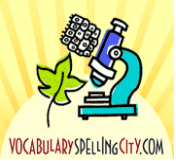 Science vocabulary is at the very core of scientific understanding
(PRWEB) July 30, 2011
VocabularySpellingCity is pleased to announce the latest addition to its growing section of resources for teachers: Science Vocabulary Lists. They are based on on state and national science standards, covering the key science content areas for each grade from kindergarten through high school. The lists can be used with all of VocabularySpellingCity's learning activities.
Science vocabulary appears on high-stakes standardized tests as early as 4th grade. In addition, students who understand the meaning of scientific terminology have a much easier time understanding the concepts behind that vocabulary. "Students' knowledge of science vocabulary is at the very core of scientific understanding," affirms Palm Beach County Science Educators' Association President Linda J. Petuch (M.Ed., NBCT/Science, Early Adolescence).
VocabularySpellingCity provides science vocabulary lists for elementary through high school, written by science teachers and curriculum specialists from around the country. For each grade and science content area, there are both detailed lists and summary lists covering seven categories. Elementary and middle school categories include scientific inquiry, matter, energy, motion, space, earth, and life science. At the high school level, categories cover integrated science, ecology, chemistry, physics, earth science, space science, and biology.
The sentences and definitions were written, edited and refined by science teachers and curriculum specialists for use in the context of science. So when terms have multiple meanings or when they can be defined in both a general or scientific manner, the scientific definition or sentence is used.
All spelling vocabulary lists are free to use. Parents and teachers with premium memberships have the option of importing these lists into their accounts, where they can be customized to suit personal preferences and used with a larger selection of learning games. They can be integrated within a curriculum in a number of ways: as an introduction prior to studying a unit, as reinforcement of key concepts, or as an assessment after covering a unit.
VocabularySpellingCity offers a large selection of spelling and vocabulary lists covering a broad range of topics. The word lists can be used with over 25 spelling and vocabulary games that include interactive flashcards, matching games, unscrambles, fill-in-the-blanks and online spelling and vocabulary tests.
VocabularySpellingCity is a top 1000 site in the U.S., reaching over 2 million unique users per month according to Quantcast.com. It was created and is currently owned by Vkidz Inc, a family-owned educational software company that's dedicated to helping students, teachers, and school systems by creating "game-changing" educational solutions.
###