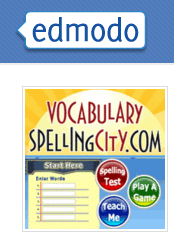 Edmodo is thrilled to welcome VocabSpellingCity as a featured partner in the Edmodo Store!

-Nic Borg, CEO and Co-Founder of Edmodo
Ft Lauderdale, FL (PRWEB) March 07, 2012
VocabularySpellingCity is proud to announce our support for Edmodo's social collaboration platform and app store.
"Edmodo and VocabularySpellingCity share a belief that teachers should learn from each other and work with their students using modern technology and methods. Edmodo is the most popular implementation of social media technology focused on K12 education," said John Edelson, the Founder and Mayor of VocabularySpellingCity. "Edmodo has adapted a popular social network paradigm to support teachers' and students' interactions in a productive learning community. We're pleased to participate as they move forward into improving how teachers procure access to software resources with an app store that gives teachers direct control of acquiring the software resources that they need."
"Edmodo is thrilled to welcome VocabSpellingCity as a featured partner in the Edmodo Store," said Nic Borg, CEO and co-founder of Edmodo. "As an established publisher in the education community we believe their innovative applications will be a great addition to the Edmodo platform and classrooms across the globe."
Word of mouth among teachers has lead to phenomenal growth for both Edmodo and VocabularySpellingCity over the last few years.
Company Background: VocabularySpellingCity is an award-winning online educational service with both free and paid members. The site is used by elementary, middle, and high school students for learning vocabulary, spelling, writing, and grammar. With over 100 million page views in February, VocabularySpellingCity is one of the most popular K12 educational sites on the web today. VocabularySpellingCity's mission is efficient learning of literacy skills and word study for mainstream, ESL, and exceptional students.
There are 25 different learning activities including automated spelling tests, talking flash cards, vocabulary exercises with words in context-rich sentences, handwriting worksheets, alphabetical order games, and familiar games such as hangman.
There are also teaching resources with video lessons and interactive exercises for topics such as analogies, sound-alike words, math vocabulary, science vocabulary, and correct use of plurals and possessives. SpellingCity is part of the Vkidz educational group that is also developing Science4Us.com.