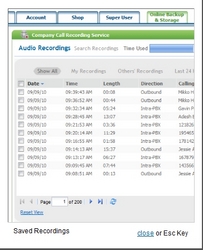 The Company Call Recording Service is a result of constant conversations with customers.
Atlanta, GA (PRWEB) October 11, 2010
Vocalocity, the leading provider of small business VoIP services, today announced it has launched Company Call Recording Service, a new feature available for all VoIP customers. The new service comes after Vocalocity's slew of product launches in the past few months, part of an ongoing commitment to provide customers with new features to support their continuing small business communications needs.
Vocalocity CEO Wain Kellum says, "The Company Call Recording feature is the result of constant conversations with customers. Like many successful companies in the marketplace today, we realize customer service is the key factor to success. We are excited that we can provide tools like Company Call Recording to help our customers work more efficiently in their businesses."
The new service can be used for both training employees and compliance purposes. The service is simple to use. The account administrator sets up basic rules that define what to record. Once the rules are set, recordings happen automatically – there are no "buttons" to push.
Company Call Recording is available immediately for Vocalocity customers. The service can be added with a click of a button through the Administrator User Interface. New customers can add Company Call Recording upon sign-up. With Company Call Recording, customers benefit from the following features:

Record Only What You Need. Record 1% - 100% of inbound or outbound calls on any extension, call group, call queue or conference bridge.
Perfect For Quality Control. Ensure that employees are performing up to your standards.
No Expiration Date. You have access to your recordings for as long as you keep the service. They'll never expire or disappear. You can also email, save them to your computer or delete your recordings.
Flat Rate. Company Call Recording Service is only $49.99 per month, whether you use it on 1 extension or 100. The basic plan comes with 500 hours of recording time; additional time is available.
"Demand for affordable, high-quality company call recording has been strong among our customers," said Mark Carubia, Director of Product Management for Vocalocity. "We are proud to provide a superior service at one of the lowest price points in the industry."
Looking at hosted PBX technology phone systems for small business? For more information on Vocalocity, visit vocalocity.com or call 877-VOCALOCITY.
About Vocalocity®
Founded in 2005, Vocalocity is the leading provider of VoIP (Voice over Internet Protocol) communication services for small businesses with fewer than 20 employees. Vocalocity powers thousands of small businesses with its core offering, VocalocityPBX, a hosted PBX solution that provides customers with the quality and reliability of traditional PBX phone systems, with more features, flexibility and cost savings. Vocalocity helps small businesses compete more effectively by providing them with communications services traditionally reserved for larger organizations, at small business prices. For more information about Vocalocity, please visit vocalocity.com or call 877-VOCALOCITY.
# # #