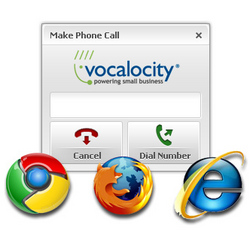 Vocalocity's Click- To-Dial Feature Integrates with Top Business Tools.
Atlanta, GA (PRWEB) September 22, 2010
Vocalocity, the leading provider of small business VoIP services, announced it has launched another feature that helps its cloud based phone system work even harder for its customers. Click-To-Dial is an additional capability that Vocalocity is providing free to all its customers.
With Click-To-Dial, customers can now make phone calls with the click of a mouse. After downloading the Click-To-Dial application to a PC, users can click on telephone numbers on any web page or they can utilize their Microsoft Outlook Business Contact® add-on to place calls. When a number has been clicked, the customer's desktop phone rings. After the desktop phone is answered the "clicked number" is dialed immediately, establishing a connection. Click-To-Dial also works well with browser-based CRM applications, like Salesforce.com®, and Bullhorn®.
Vocalocity is providing this feature based upon direct customer feedback; yet another example of Vocalocity's ongoing dedication to make sure their phone service works as hard as possible for their customers. The productivity and additional logging of call activities provide solid benefits that are easy to obtain.
Microsoft Outlook® customers get the benefit of using the journaling capabilities built into the program when they place calls. Salesforce.com® customers can easily dial an account. "We are starting to see accelerated adoption of Salesforce.com® in our customer base. The benefits of CRM in the very small business segment are many and Click-To-Call integration makes any Salesforce.com® implementation even easier to justify." Said Wain Kellum, Vocalocity CEO.
"In a fast paced business environment, this feature is a huge asset to my business," said one Vocalocity customer. "This is great for people who do not have time to write down a number and dial it."
Looking at hosted PBX technology phone systems for small business? For more information on Vocalocity, visit vocalocity.com or call 877-VOCALOCITY.
About Vocalocity®
Founded in 2005, Vocalocity is the leading provider of VoIP (Voice over Internet Protocol) communication services for small businesses with fewer than 20 employees. Vocalocity powers thousands of small businesses with its core offering, VocalocityPBX, a hosted PBX solution that provides customers with the quality and reliability of traditional PBX phone systems, with more features, flexibility and cost savings. Vocalocity helps small businesses compete more effectively by providing them with communications services traditionally reserved for larger organizations, at small business prices. For more information about Vocalocity, please visit vocalocity.com or call 877-VOCALOCITY.
###