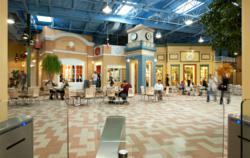 Our success is a three-fold testament to the hard work of our employees, the loyalty of our customers, and a community within the Chesapeake that's clearly dedicated to facilitating economic growth.
Beltsville, MD (PRWEB) May 11, 2012
Vocus, Inc. (NASDAQ: VOCS), a leading provider of cloud marketing software, today announced the Chesapeake Regional Tech Council (CRTC) has named it the "Tech Company of the Year." The award is granted to a tech company that has demonstrated impressive growth, innovation and community service.
The CRTC received nearly 40 submissions, in five different award categories, from a variety of accomplished technology businesses based the Chesapeake Bay area – a region that stretches from Annapolis to Baltimore and includes Washington, DC. A selection committee examined the nominees and applications before holding a vote to determine the winners. The winning companies were announced at the CRTC's 7th Annual TechAwards event.
"Vocus has achieved 27% compound annual growth over the last 10 years," said Vocus Chairman and CEO Rick Rudman. "Our success is a three-fold testament to the hard work of our employees, the loyalty of our customers, and a community within the Chesapeake that's clearly dedicated to facilitating economic growth."
Vocus was also named a finalist in a second award category for "Best Place to Work." The company has recently moved into an impressive new headquarters building in Beltsville, Md. The new building is a 93,000 square foot corporate campus, which makes Vocus a premier work destination, inspired by planning and development principles known as "New Urbanism." For example, the Finance Department is located in a bank (Sterling Bank) and the mailroom is inside a (mock) post office.
The company provides a variety of perks, including a full-sized fitness facility, a basketball court, and offers yoga and boot-camp style workout classes during lunch hours. There are also multiple lounges and coffee shops where employees can mingle, relax and take work-breaks. The building is indicative of the company's leadership philosophy and corporate culture that has helped fuel the company's long stretch of growth.
"We are very proud to showcase Vocus as a finalist for Best Places to Work and also as the winner of the 'Tech Company of the Year' category," said the CRTC's Executive Director, Kristen Valerio. "It's important that the regional technology community realizes the high performing businesses we have right here in our own backyard."
About Vocus
Vocus, Inc. is a leading provider of cloud marketing software that helps businesses reach and influence buyers across social networks, online and through media. Vocus provides an integrated suite that combines social marketing, search marketing, email marketing and publicity into a comprehensive solution to help businesses attract, engage and retain customers. Vocus software is used by more than 120,000 organizations worldwide and is available in seven languages. Vocus is based in Beltsville, MD with offices in North America, Europe and Asia. For further information, please visit http://www.vocus.com or call (800) 345-5572.
# # #
Forward-Looking Statement
This release contains "forward-looking" statements that are made pursuant to the Safe Harbor provision of the Private Securities Litigation Reform Act of 1995. These statements are predictive in nature, that depend upon or refer to future events or conditions or that include words such as "may," "will," "expects," "projects," "anticipates," "estimates," "believes," "intends," "plans," "should," "seeks," and similar expressions. This press release contains forward-looking statements relating to, among other things, Vocus' expectations and assumptions concerning future financial performance. Forward-looking statements involve known and unknown risks and uncertainties that may cause actual future results to differ materially from those projected or contemplated in the forward-looking statements. Forward-looking statements may be significantly impacted by certain risks and uncertainties described in Vocus' filings with the Securities and Exchange Commission.
The risks and uncertainties referred to above include, but are not limited to, risks associated with possible fluctuations in our operating results and rate of growth, our history of operating losses, risks associated with acquisitions, including our ability to successfully integrate acquired businesses, risks associated with our foreign operations, interruptions or delays in our service or our web hosting, our business model, breach of our security measures, the emerging market in which we operate, our relatively limited operating history, our ability to hire, retain, and motivate our employees and manage our growth, competition, our ability to continue to release and gain customer acceptance of new and improved versions of our service, successful customer deployment and utilization of our services, fluctuations in the number of shares outstanding, foreign currency exchange rates and interest rates.