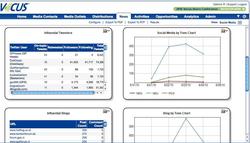 Lanham, MD (PRWEB) October 19, 2010
Social media presents both new challenges and opportunities for Pete Owens, media and public relations manager for Dollywood, the family theme park in Tenn. Smoky Mountains bearing the namesake of the iconic Dolly Parton. "It's changing so fast and there are so many new channels and new options the challenge has become reaching the right people – those that influence your customers," Owens added.
At Owens' behest, Dollywood turned to Vocus(NASDAQ: VOCS) to provide a single integrated platform for managing his public relations efforts – from media research and distribution to news and social media monitoring. While Dollywood had previously used a competitive product for media research and television news clipping, Owens says it's the integration and the addition of social media monitoring that changed his mind.
"I'm using a 3rd party vendor for television broadcast clipping and Vocus integrates these into its platform," said Owens. "Along with the media research module, and social media monitoring, integrations means time savings – I don't have to go to three places for that information."
The information Owens is seeking answers three key questions – who is talking about Dollywood in social media, where are those conversations taking place and what is the tone or sentiment of the discussion? Owens says conversations about Dollywood have reached a level where search engine alerts were simply not enough anymore.
"How much is out there is staggering," said Owens. "Communicators must have the ability to measure those conversations in the form of share of voice."
Staggering indeed – Dollywood's Facebook fan page currently counts nearly 45,000 fans and its status updates receive upwards of 100 interactions in the form of "likes" and comments. Owens says Dollywood aims to double those figures by next year, in addition its reach into other social media networks including YouTube. The first step in reaching that goal, Owens says, is understanding "what folks are saying about us."
"Dollywood is an illustrative example of how social media monitoring, and sentiment analysis can lead to definitive goals in relating to the public," said Kye Strance, director of Product Management for Vocus. "It boils down to the idea that listening and analysis leads to better engagements – better still if you can do it in one place."
About Vocus
Vocus, Inc. (NASDAQ: VOCS) is a leading provider of on-demand software for public relations management. Our web-based software suite helps organizations of all sizes to fundamentally change the way they communicate with both the media and the public, optimizing their public relations and increasing their ability to measure its impact. Our on-demand software addresses the critical functions of public relations including media relations, news distribution and news monitoring. We deliver our solutions over the Internet using a secure, scalable application and system architecture, which allows our customers to eliminate expensive up-front hardware and software costs and to quickly deploy and adopt our on-demand software. Vocus is used by more than 7,100 organizations worldwide and is available in seven languages. Vocus is based in Lanham, MD with offices in North America, Europe and Asia. For more information, please visit http://www.vocus.com or call (800) 345-5572.
This release contains "forward-looking" statements that are made pursuant to the Safe Harbor provisions of the Private Securities Litigation Reform Act of 1995. These are statements that are predictive in nature, that depend upon or refer to future events or conditions, or that include words such as "may," "will," "expects," "projects," "anticipates," "estimates," "believes," "intends," "plans," "should," "seeks," and similar expressions. This press release contains forward-looking statements relating to, among other things, Vocus' expectations and assumptions concerning future financial performance. Forward-looking statements involve known and unknown risks and uncertainties that may cause actual future results to differ materially from those projected or contemplated in the forward-looking statements. Forward-looking statements may be significantly impacted by certain risks and uncertainties described in Vocus' filings with the Securities and Exchange Commission.
The risks and uncertainties referred to above include, but are not limited to, risks associated with possible fluctuations in our operating results and rate of growth, our history of operating losses, interruptions or delays in our service or our Web hosting, our business model, breach of our security measures, the emerging market in which we operate, our relatively limited operating history, our ability to hire, retain and motivate our employees and manage our growth, competition, our ability to continue to release and gain customer acceptance of new and improved versions of our service, successful customer deployment and utilization of our services, fluctuations in the number of shares outstanding, our ability to integrate acquisitions, foreign currency exchange rates and interest rates.
# # #