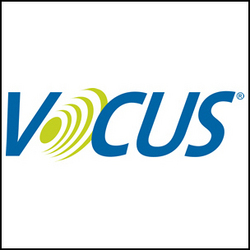 We're very pleased to welcome Vocus back as a renewing and loyal partner
London, UK (PRWeb UK) August 20, 2009
Vocus, Inc. (NASDAQ: VOCS) a leading provider of on-demand software for public relations management, today announced it has renewed its partnership agreement with the Chartered Institute of Public Relations (CIPR). This marks the third year in a row that Vocus has renewed this relationship with the UK's largest professional public relations organisation.
"We're very pleased to welcome Vocus back as a renewing and loyal partner," said Elspeth Graham, MCIPR, Assistant Director General for CIPR. "Our Corporate Partners are very important to us. Vocus, like all CIPR Partners, are experts in their field. The service they offer makes a valuable contribution to the way PR professionals practice and in turn the development of the industry."
CIPR now boasts more than 9,500 members and is the largest professional organisation of its kind in Europe. The organisation is dedicated to raising industry standards through improving the knowledge and skills of public relations practitioners; and offers its members professional credibility and recognition, as well as professional development and accreditation opportunities.
"This sponsorship is mutually beneficial for both CIPR and Vocus. Many PR professionals have fallen on hard times given the current state of economic affairs and we feel it is more important than ever to continue our commitment to the CIPR," said Shoba Virk, Marketing Manager with Vocus. "There is clearly great value in partnering an organisation like CIPR because it enhances Vocus' visibility amid a concentrated group of dedicated professionals and is a great way for Vocus to give back to a community that also comprises our customer base."
About the CIPR
The Chartered Institute of Public Relations is the professional body for PR practitioners in the UK. With over 9,500 members, involved in all aspects of the public relations industry, it is the largest body of its type in Europe. The CIPR advances the PR industry in the UK by making its members accountable through a code of conduct, developing policies for the PR industry, representing its members, and raising standards through education and training. For further information, visit http://www.cipr.co.uk
About Vocus
VOCUS, Vocus, Inc. (NASDAQ: VOCS) is a leading provider of on-demand software for public relations management, helping organisations of all sizes fundamentally change the way they communicate with the media and the public, optimise their public relations efforts and measure their impact. The web-based software addresses the critical functions of public relations including media relations, news distribution and news monitoring, and provides the critical capability to monitor and analyse social media conversations from virtually any source and track results compared to key competitors. Vocus is used by more than 3,700 organisations worldwide and is available in seven languages. Vocus is based in Lanham, MD with offices in London, Europe, and Asia. For more information, visit http://www.vocus.co.uk
This release contains "forward-looking" statements that are made pursuant to the Safe Harbor provisions of the Private Securities Litigation Reform Act of 1995. These are statements that are predictive in nature, that depend upon or refer to future events or conditions, or that include words such as "may," "will," "expects," "projects," "anticipates," "estimates," "believes," "intends," "plans," "should," "seeks," and similar expressions. This press release contains forward-looking statements relating to, among other things, Vocus' expectations and assumptions concerning future financial performance. Forward-looking statements involve known and unknown risks and uncertainties that may cause actual future results to differ materially from those projected or contemplated in the forward-looking statements. Forward-looking statements may be significantly impacted by certain risks and uncertainties described in Vocus' filings with the Securities and Exchange Commission.
###