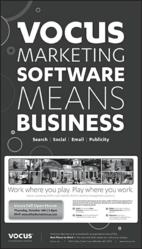 We are a premier workplace in this area and we view an extraordinary event like the Vocus Search Party as a means to attract top talent in the area.
Beltsville, MD (PRWEB) October 02, 2012
Vocus (NASDAQ: VOCS), a leading provider of cloud marketing software, announced today it will host a free recruiting and employment event called the Vocus Search Party for job seekers in the greater Washington and Baltimore areas. The event will be held on October 4th from 5:00 p.m. to 8:00 p.m. and will feature marketing and personal branding expert Peter Shankman, and human resources expert Jessica Merrell of Blogging4Jobs.
Vocus has increased its headcount by more than 300 since the end of 2011 and has aggressive plans to fill up to 300 additional jobs before the end of this year. The company is currently seeking to fill positions it has open in sales, technology, accounting and finance.
The event will also offer free resume consulting to help employment seekers put their best foot forward, and workshops on organizing a job search. Recruiters from Vocus will also be on hand for candidates interested in applying for any of the numerous employment opportunities at the company.
"Vocus is clearly growing and as a result we are hiring," said Cal Shilling, vice president of Human Resources at Vocus. "We are a premier workplace in this area and we view an extraordinary event like the Vocus Search Party as a means to attract top talent in the area."
Vocus recently celebrated its one-year anniversary in its new corporate headquarters in Prince George's County, Md. The headquarters lies between Washington, DC and Baltimore, and is a stunning 93,000 square foot facility modeled after the town of Seaside, Fla. Despite the economic doldrums, the company has grown tremendously, reporting 53 percent revenue growth in the second quarter of this year.
The event will be held on Thursday, October 4, 2012 from 5:00 p.m. to 8:00 p.m. at Vocus' headquarters, located at 12051 Indian Creek Court, Beltsville, Md. 20705. Space is limited and job seekers interested in attending are required to RSVP by visiting the Vocus Careers site registration page: http://www.whyworkatvocus.com/rsvpmaker/vocus-fall-open-house/
About Vocus
Vocus is a leading provider of cloud marketing software that helps businesses reach and influence buyers across social networks, online and through media. Vocus provides an integrated suite that combines social marketing, search marketing, email marketing and publicity into a comprehensive solution to help businesses attract, engage and retain customers. Vocus software is used by more than 120,000 organizations worldwide and is available in seven languages. Vocus is based in Beltsville, MD with offices in North America and Europe. For further information, please visit http://www.vocus.com or call (800) 345-5572.
Forward-Looking Statement
This release contains "forward-looking" statements that are made pursuant to the Safe Harbor provision of the Private Securities Litigation Reform Act of 1995. These statements are predictive in nature, that depend upon or refer to future events or conditions or that include words such as "may," "will," "expects," "projects," "anticipates," "estimates," "believes," "intends," "plans," "should," "seeks," and similar expressions. This press release contains forward-looking statements relating to, among other things, Vocus' expectations and assumptions concerning future financial performance. Forward-looking statements involve known and unknown risks and uncertainties that may cause actual future results to differ materially from those projected or contemplated in the forward-looking statements. Forward-looking statements may be significantly impacted by certain risks and uncertainties described in Vocus' filings with the Securities and Exchange Commission.
The risks and uncertainties referred to above include, but are not limited to, risks associated with possible fluctuations in our operating results and rate of growth, our history of operating losses, risks associated with acquisitions, including our ability to successfully integrate acquired businesses, risks associated with our foreign operations, interruptions or delays in our service or our web hosting, our business model, breach of our security measures, the emerging market in which we operate, our relatively limited operating history, our ability to hire, retain, and motivate our employees and manage our growth, competition, our ability to continue to release and gain customer acceptance of new and improved versions of our service, successful customer deployment and utilization of our services, fluctuations in the number of shares outstanding, foreign currency exchange rates and interest rates.