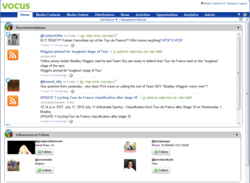 The Vocus PR Fall 2012 Release extends our long-standing value proposition to PR pros: a single comprehensive platform to reach authoritative media and influence customers.
Beltsville, MD (PRWEB) August 28, 2012
Vocus (NASDAQ: VOCS), a leading provider of cloud marketing software, announced its Fall 2012 Release for the Vocus Public Relations Suite. The Fall 2012 Release debuts a unique Recommendation Engine and provides new tools for social engagement, monitoring, and analytics. With these enhancements, businesses can more easily combine social media with traditional public relations to dramatically improve the impact of their PR.
The Vocus Recommendation Engine enables PR professionals to easily sift through the noise and static of social posts, blogs and news to highlight the best opportunities for engaging influencers, connecting with customers and expanding their digital footprint. It collects and analyzes millions of data points, from blogs and news to Twitter and Facebook posts.
"My business is information. I have to keep in my head at all times a picture of what's happening across all corners of this vast organization because I never know what a journalist will ask or when they will ask it. I can turn my phone and Blackberry off at night because I know Vocus is always on," said David Sommers, Director of Public Affairs, Chief Executive Office, County of Los Angeles, in a case study on media relations. "Since we've started using Vocus, it has completely revolutionized how we execute media relations and provide concrete, quantifiable results in the nation's largest local government."
The Fall 2012 Release of the Vocus PR Suite contains a number of major enhancements, including:

Sophisticated algorithmic recommendations. The Recommendation Engine makes getting started in social media easy for beginners and points out opportunities the savvy social media user might have missed. Recommendations are tailored based on the customer's self-selected search parameters, conversation topics and key words. This provides users with recommended actions from news and social media content. It also offers recommendations based on the social media conversations of influential people within a user's industry. In addition, the Recommendation Engine will search the Vocus database and suggest relevant influencers for outreach based on a user's conversation topics.
Enhanced social engagement functionality. Customers can share and post content to major social channels such as Facebook, LinkedIn and Twitter, and track click-through traffic measured by Bitly, directly through the Vocus dashboard. Additionally, any team member with authorized access to the Vocus PR Suite can post to these networks, enabling more collaboration. Users can also assign tasks and log activity for information their team shares on a social network.
Advanced social media monitoring. Improved social media monitoring allows customers to search and analyze key influencers in their industry. This gives users more actionable insight. Unlike most social media monitoring tools, which cleanse data after as little as 90 days, Vocus saves this data in perpetuity, allowing users to analyze results over months or even years.
New social media analytics. Users can integrate their social networks and display social metrics from Facebook, Twitter and Bitly, along with existing analytical charts, in a simple dashboard-style layout. This gives users a single, comprehensive view of their social media marketing programs. Vocus offers 14 new social media charts for analyzing data, identifying trends and spotting opportunities, which sit alongside over 200 existing charts across news, blogs and social media. The analytics also provide demographic data to help users quickly identify the best-performing content in their respective communities.
"Vocus has delivered the thing we were most interested in," said Martha O'Gorman, CMO at Liberty Tax, in a case study. "It quantifies what all of our activity means in terms of ROI, and shows us that it makes sense for us to invest in the people and resources to beef up our PR activity. Being able to track the impact of our PR is so valuable to us that it pays for the money we spend with Vocus. It shows us what it would cost in media dollars to get the exposure we're getting through PR."
"As PR pros have been propelled to the front lines of communications because of social media, the Vocus PR Suite enables them to stay ahead of the curve," said Vocus Senior Vice President of Products, You Mon Tsang. "The Vocus PR Fall 2012 Release extends our long-standing value proposition to PR pros: a single comprehensive platform to reach authoritative media and influence customers."
Founded in 1992, Vocus is committed to building the most comprehensive platform for public relations professionals. Based on customer feedback, the company saw a unique opportunity to offer an integrated marketing suite that now includes search marketing, public relations, social marketing and email marketing. Today, Vocus software is used by PR and marketing professionals, and small business owners, at companies of all sizes.
About Vocus
Vocus is a leading provider of cloud marketing software that helps businesses reach and influence buyers across social networks, online and through media. Vocus provides an integrated suite that combines social marketing, search marketing, email marketing and publicity into a comprehensive solution to help businesses attract, engage and retain customers. Vocus software is used by more than 120,000 organizations worldwide and is available in seven languages. Vocus is based in Beltsville, MD with offices in North America, Europe and Asia. For further information, please visit http://www.vocus.com or call (800) 345-5572.
# # #
Forward-Looking Statement This release contains "forward-looking" statements that are made pursuant to the Safe Harbor provision of the Private Securities Litigation Reform Act of 1995. These statements are predictive in nature, that depend upon or refer to future events or conditions or that include words such as "may," "will," "expects," "projects," "anticipates," "estimates," "believes," "intends," "plans," "should," "seeks," and similar expressions. This press release contains forward-looking statements relating to, among other things, Vocus' expectations and assumptions concerning future financial performance. Forward-looking statements involve known and unknown risks and uncertainties that may cause actual future results to differ materially from those projected or contemplated in the forward-looking statements. Forward-looking statements may be significantly impacted by certain risks and uncertainties described in Vocus' filings with the Securities and Exchange Commission.
The risks and uncertainties referred to above include, but are not limited to, risks associated with possible fluctuations in our operating results and rate of growth, our history of operating losses, risks associated with acquisitions, including our ability to successfully integrate acquired businesses, risks associated with our foreign operations, interruptions or delays in our service or our web hosting, our business model, breach of our security measures, the emerging market in which we operate, our relatively limited operating history, our ability to hire, retain, and motivate our employees and manage our growth, competition, our ability to continue to release and gain customer acceptance of new and improved versions of our service, successful customer deployment and utilization of our services, fluctuations in the number of shares outstanding, foreign currency exchange rates and interest rates.