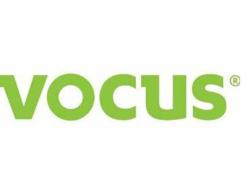 With its real-time, human-driven results, Twitter has become the networking, information and search engine of choice for many business professionals.
Beltsville, MD (PRWEB) September 05, 2012
Deciphering the world of Twitter will be easy after the free Vocus (NASDAQ: VOCS) webinar titled Twitter Power in One Hour with acclaimed marketing expert Mark W. Schaefer. The webinar will take place at 2:00 p.m. ET on Wednesday, September 12, 2012.
In this fast-paced and entertaining talk, you'll get insider tips and strategies from the person who literally wrote the book on Twitter, Mark W. Schaefer. Schaefer is a well-known marketing blogger, college educator, and the author of The Tao of Twitter, the best-selling book on Twitter in the world.
Specifically, attendees will learn:

Three foundational business strategies for Twitter
The social media mindset which sets successful businesses apart
New tricks and tactics to make Twitter work for you, your business, and your clients today
"It isn't just a cute kiddie-toy or chat function for keeping in touch with friends," writes Schaefer. "With its real-time, human-driven results, Twitter has become the networking, information and search engine of choice for many business professionals. Behind every Twitter triumph, there is a well-defined success formula."
Mark W. Schaefer is an acclaimed college educator, author, speaker and consultant who has been featured in the Wall Street Journal, The New York Times and CBS News. He has 30 years of global sales and marketing experience along with two advanced degrees in business and applied behavioral sciences.
Attendees of the webinar will also have a chance to win a copy of Shaefer's book by engaging in the webinar survey and through social media on Twitter @Vocus. Details will be provided on the webinar.
The free, one-hour webinar will be held at 2:00 p.m. ET on Wednesday, September 12, 2012. To register, click here.
About Vocus
Vocus is a leading provider of cloud marketing software that helps businesses reach and influence buyers across social networks, online and through media. Vocus provides an integrated suite that combines social marketing, search marketing, email marketing and publicity into a comprehensive solution to help businesses attract, engage and retain customers. Vocus software is used by more than 120,000 organizations worldwide and is available in seven languages. Vocus is based in Beltsville, MD with offices in North America, Europe and Asia. For further information, please visit http://www.vocus.com or call (800) 345-5572.
Forward-Looking Statement
This release contains "forward-looking" statements that are made pursuant to the Safe Harbor provision of the Private Securities Litigation Reform Act of 1995. These statements are predictive in nature, that depend upon or refer to future events or conditions or that include words such as "may," "will," "expects," "projects," "anticipates," "estimates," "believes," "intends," "plans," "should," "seeks," and similar expressions. This press release contains forward-looking statements relating to, among other things, Vocus' expectations and assumptions concerning future financial performance. Forward-looking statements involve known and unknown risks and uncertainties that may cause actual future results to differ materially from those projected or contemplated in the forward-looking statements. Forward-looking statements may be significantly impacted by certain risks and uncertainties described in Vocus' filings with the Securities and Exchange Commission.
The risks and uncertainties referred to above include, but are not limited to, risks associated with possible fluctuations in our operating results and rate of growth, our history of operating losses, risks associated with acquisitions, including our ability to successfully integrate acquired businesses, risks associated with our foreign operations, interruptions or delays in our service or our web hosting, our business model, breach of our security measures, the emerging market in which we operate, our relatively limited operating history, our ability to hire, retain, and motivate our employees and manage our growth, competition, our ability to continue to release and gain customer acceptance of new and improved versions of our service, successful customer deployment and utilization of our services, fluctuations in the number of shares outstanding, foreign currency exchange rates and interest rates.