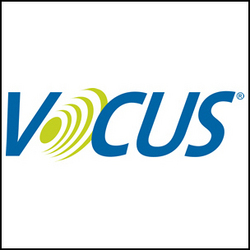 We are so pleased that Vocus saw the value of incorporating MRP in their flagship product
Lanham, MD (Vocus) January 17, 2008
Vocus, Inc., (NASDAQ: VOCS) a leading provider of on-demand software for public relations management, today announced that it will enable its customers to evaluate media coverage by the Canadian Public Relations Society (CPRS) measurement standard Media Relations Rating Points (MRP) in the Vocus platform. Vocus is the first public relations software company to incorporate Canada's Media Relations Ratings Points TM (MRP) standard. Using the Vocus platform, Canadian customers can now access and submit their coverage to the MRP system to get clear metrics to evaluate their coverage as defined by MRP.
"As the first software vendor to incorporate the standard, Vocus has demonstrated commitment to the Canadian public relations industry and their endorsement helps us take a huge step forward with the MRP standard," said Kevin Foster, vice-president, MRP Sales / Marketing and Product Development, News Canada. "Through Vocus' platform, professionals will be able to analyze large quantities of clips, allowing them to take advantage of MRP easily and simply."
"We are so pleased that Vocus saw the value of incorporating MRP in their flagship product," said Karen Dalton, APR, Executive Director of CPRS. "Their involvement is further recognition that MRP is the Canadian standard for public relations professionals seeking to measure the effectiveness of their media relations activities."
"The MRP standard offers the public relations community a unified way of evaluating their media coverage," said Bill Wagner, Chief Marketing Officer. "Incorporating into our platform for our customers furthers Vocus' commitment to providing all the tools necessary to advance and evaluate their public relations initiatives."
MRP was launched in April 2006 and was developed by the Canadian Public Relations Society after consulting with the public relations industry for 3½ years. MRP and Media Relations Rating Points is trademarked and copyrighted by CPRS. This measurement standard is endorsed by the Canadian chapters of the International Association of Business Communicators and the Canadian Council of Public Relations Firms. For more information on MRP, please go to http://www.mrpdata.com/.
About Canadian Public Relations Society:
The Canadian Public Relations Society (CPRS) is the only Canadian professional association representing more than 1,600 public relations practitioners in 16 member societies across Canada who commit to following a Code of Professional Standards. The society is dedicated to promoting professionalism in the practice of public relations, and offers a program of professional accreditation in public relations (APR), as well as professional development and education programs affiliated with various colleges and universities across Canada.
About News Canada Inc.:
For over 25 years, News Canada, Inc. has been providing a strategic and unique public relations service by delivering its clients' embedded messages to millions of consumers via the media. We provide our clients with a cost-effective means of achieving positive coverage for their products and services through our Print, Web, Broadcast and Online Video services. We offer 100% guaranteed pick-up of our clients' media-requested, newsworthy content and standardized reporting of proof of performance and success. News Canada is based in Toronto, Ontario, Canada with offices in Ottawa, Montreal and Vancouver. For more information please visit http://www.newscanada.com or call 888.855.6397
About Vocus, Inc.
Vocus, Inc. (NASDAQ: VOCS) is a leading provider of on-demand software for public relations management. Our web-based software suite helps organizations of all sizes to fundamentally change the way they communicate with both the media and the public, optimizing their public relations and increasing their ability to measure its impact. Our on-demand software addresses the critical functions of public relations including media relations, news distribution and news monitoring. We deliver our solutions over the Internet using a secure, scalable application and system architecture, which allows our customers to eliminate expensive up-front hardware and software costs and to quickly deploy and adopt our on-demand software. Vocus is used by more than 2,200 organizations worldwide and is available in five languages. Vocus is based in Lanham, MD with offices in North America, Europe, and Asia. For more information please visit http://www.vocus.com or call 800.345.5572.
This release contains "forward-looking" statements that are made pursuant to the Safe Harbor provisions of the Private Securities Litigation Reform Act of 1995. Statements that are predictive in nature, that depend upon or refer to future events or conditions, or that include words such as "may," "will," "expects," "projects," "anticipates," "estimates," "believes," "intends," "plans," "should," "seeks," and similar expressions. Forward-looking statements involve known and unknown risks and uncertainties that may cause actual future results to differ materially from those projected or contemplated in the forward-looking statements. Forward-looking statements may be significantly impacted by certain risks and uncertainties described in Vocus' filings with the Securities and Exchange Commission.
###