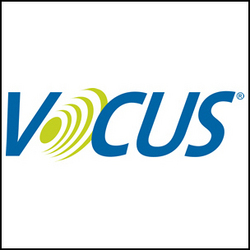 News monitoring is a rapidly growing part of our business and Summer '07 delivers the cutting-edge capabilities that enable users to quickly identify and react to important news as it happens
Lanham, MD (Vocus) August 30, 2007
Vocus, Inc., (NASDAQ: VOCS) a leading provider of on-demand software for public relations management, today announced the launch of Vocus Summer '07, the latest release of its award-winning public relations management software. Already the industry's most advanced on-demand software for PR management, Summer '07 adds powerful features that make it easier than ever for organizations to monitor, manage, share and analyze their news.
"Vocus provides an easy-to-use platform that enables public relations professionals to monitor their news and focus their efforts on achieving results," said Edward J. Adams, Ph.D., Public Affairs - Issues & Systems Analyst at DuPont. "With Summer '07, Vocus has once again delivered innovations that will continue to make our lives easier and our PR more effective."
The Internet-driven news cycle and growing influence of blogs has made it critical for organizations of all sizes to monitor their news in real-time. Developed in collaboration with customers, Summer '07 addresses this need with innovations including:
•Really Simple Syndication (RSS)--RSS feeds from virtually any source can be integrated into the Vocus platform, providing a comprehensive view of media coverage in one place.
•Video Clips--Customers can now incorporate video clips from multiple sources to provide comprehensive real-time monitoring of broadcast coverage.
•Natural Language Processing (NLP) - Summer '07 uses NLP technology to automatically analyze the sentiment of news coverage and determine whether articles are positive, negative or neutral.
"News monitoring is a rapidly growing part of our business and Summer '07 delivers the cutting-edge capabilities that enable users to quickly identify and react to important news as it happens," said Bill Wagner, chief marketing officer of Vocus, Inc. "With the second major release of our PR software this year, Vocus continues its tradition of being first to market with a stream of innovations that set the standard for the industry."
Summer '07 is available immediately as a stand-alone news management product or as part of Vocus' integrated suite that includes media relations and news distribution. Existing Vocus customers have already been upgraded to the new release.
About Vocus, Inc.
Vocus, Inc. (NASDAQ: VOCS) is a leading provider of on-demand software for public relations management. Our web-based software suite helps organizations of all sizes to fundamentally change the way they communicate with both the media and the public, optimizing their public relations and increasing their ability to measure its impact. Our on-demand software addresses the critical functions of public relations including media relations, news distribution and news monitoring. We deliver our solutions over the Internet using a secure, scalable application and system architecture, which allows our customers to eliminate expensive up-front hardware and software costs and to quickly deploy and adopt our on-demand software. Vocus is used by more than 2,000 organizations worldwide and is available in five languages. Vocus is based in Lanham, MD with offices in North America, Europe, and Asia. For more information please visit http://www.vocus.com or call 800.345.5572.
This release contains "forward-looking" statements that are made pursuant to the Safe Harbor provisions of the Private Securities Litigation Reform Act of 1995. Statements that are predictive in nature, that depend upon or refer to future events or conditions, or that include words such as "may," "will," "expects," "projects," "anticipates," "estimates," "believes," "intends," "plans," "should," "seeks," and similar expressions. Forward-looking statements involve known and unknown risks and uncertainties that may cause actual future results to differ materially from those projected or contemplated in the forward-looking statements. Forward-looking statements may be significantly impacted by certain risks and uncertainties described in Vocus' filings with the Securities and Exchange Commission.
# # #