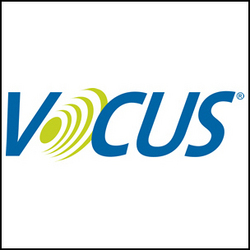 We had been using four different vendors. One for media research, two for print coverage and one for television coverage and were looking for someone to provide all of those solutions under one umbrella
Lanham, MD (Vocus) September 21, 2007
Vocus, Inc., (NASDAQ: VOCS) a leading provider of on-demand software for public relations management, today announced that Sunrise Advertising, the agency of choice for many well-known Cincinnati brands, has selected Vocus PR software to manage its public relations activities. Using Vocus, Sunrise Advertising is able to automate news distribution, monitoring and tracking and effortlessly compile result reports in order to concentrate their efforts on getting results for their campaigns.
"We had been using four different vendors. One for media research, two for print coverage and one for television coverage and were looking for someone to provide all of those solutions under one umbrella," said Jim Browning, principal at Sunrise Advertising. "With Vocus our needs are covered from beginning to end. We can create media lists, schedule distribution of news releases, tie those news releases to the clips received and generate results reports with the click of a few buttons."
"We researched and evaluated offerings from other vendors in the industry but Vocus was the only service that was able to provide us the fully-integrated solution for which we were looking," Browning continued. "Vocus is so comprehensive that we are able to spend our time on client work, instead of being bogged down by sorting and logging clips or standing in front of the fax machine."
Sunrise Advertising is a full-service agency founded in 2003 to provide a strategic, results-oriented approach to advertising through innovative planning and detailed execution. With a prominent clientele including Fifth Third Bank, Skyline Chili, Greater's and the Cincinnati USA Regional Chamber, Vocus' PR management software is helping the growing agency to closely monitor and track their campaign results. With Vocus' real-time broadcast and print clip monitoring, Sunrise is able to quickly produce coverage reports and determine the impact of their campaign.
Browning added "We are growing quickly -- we've added three new clients to our roster in the past month alone. Vocus' media coverage reports are so quick and simple to prepare, it makes it easier for us to quickly provide value to these new clients and show them solid results."
About Sunrise
Sunrise is the agency of choice for numerous well-known Cincinnati brands, such as Fifth Third Bank, Skyline Chili, John Morrell & Co., Graeter's Ice Cream, the Greater Cincinnati Chamber of Commerce, Taco Bell, Bob Sumerel Tire & Service, Playhouse in the Park, The Beach Waterpark, Talbert House, Midwest Eye Center, Borcherding Automotive and The Sheakley Group. The agency has an unparalleled understanding of Cincinnati media, as it purchases more Cincinnati media than any other Cincinnati-based, full-service advertising agency, according to local media sources. Its mission is to create fresh, strategically relevant ideas for its clients, to drive traffic and generate the results that make clients' sales shine. Sunrise is located at 700 Walnut St. in downtown Cincinnati, and on the web at http://www.sunrise-ad.com.
About Vocus, Inc.
Vocus, Inc. (NASDAQ: VOCS) is a leading provider of on-demand software for public relations management. Our web-based software suite helps organizations of all sizes to fundamentally change the way they communicate with both the media and the public, optimizing their public relations and increasing their ability to measure its impact. Our on-demand software addresses the critical functions of public relations including media relations, news distribution and news monitoring. We deliver our solutions over the Internet using a secure, scalable application and system architecture, which allows our customers to eliminate expensive up-front hardware and software costs and to quickly deploy and adopt our on-demand software. Vocus is used by more than 2,000 organizations worldwide and is available in five languages. Vocus is based in Lanham, MD with offices in North America, Europe, and Asia. For more information please visit http://www.vocus.com or call 800.345.5572.
This release contains "forward-looking" statements that are made pursuant to the Safe Harbor provisions of the Private Securities Litigation Reform Act of 1995. Statements that are predictive in nature, that depend upon or refer to future events or conditions, or that include words such as "may," "will," "expects," "projects," "anticipates," "estimates," "believes," "intends," "plans," "should," "seeks," and similar expressions. Forward-looking statements involve known and unknown risks and uncertainties that may cause actual future results to differ materially from those projected or contemplated in the forward-looking statements. Forward-looking statements may be significantly impacted by certain risks and uncertainties described in Vocus' filings with the Securities and Exchange Commission.
###