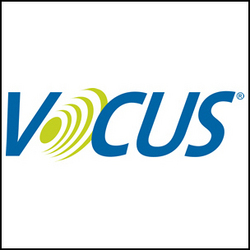 The Vocus system allows us to be extremely responsive to our clients' needs
Lanham, MD (Vocus) July 11, 2008
Vocus, Inc., (NASDAQ: VOCS) a leading provider of on-demand software for public relations management, today announced that the company will be exhibiting and speaking at the leading event for pharmaceutical, biotech and medical technology communicators, ExL Pharma's 4th Public Relations & Communications Summit, being held in New Brunswick, NJ from July 14-15, 2008.
Vocus' Director of Product Management, Kye Strance, will be speaking on Monday, July 14th at 3:30 PM ET. Strance will lead a roundtable discussing techniques and best practices for measuring public relations activities to create successful campaigns that enhance corporate images. The roundtable will also feature a case study from one of Vocus' leading customers serving the pharmaceutical industry, Roda Creative Services.
"The Vocus system allows us to be extremely responsive to our clients' needs," said Marie Roda, President of Roda Creative Services. "Immediate access to both current and historical information, combined with the flexibility to pull customized, topical reports is invaluable to the Pharmaceutical Industry."
Pharmaceutical, biotech and medical technology communication executives have recognized ExL Pharma as the leading forum to discuss best practices in corporate/brand communications while networking with communication leaders and industry peers. The conference will focus on harnessing change control and enhancing media outreach. For more information, please visit http://www.exlpharma.com/eventDetail.php?id=112.
About Vocus, Inc.
Vocus, Inc. (NASDAQ: VOCS) is a leading provider of on-demand software for public relations management. Our web-based software suite helps organizations of all sizes to fundamentally change the way they communicate with both the media and the public, optimizing their public relations and increasing their ability to measure its impact. Our on-demand software addresses the critical functions of public relations including media relations, news distribution and news monitoring. We deliver our solutions over the Internet using a secure, scalable application and system architecture, which allows our customers to eliminate expensive up-front hardware and software costs and to quickly deploy and adopt our on-demand software. Vocus is used by more than 2,600 organizations worldwide and is available in five languages. Vocus is based in Lanham, MD with offices in North America, Europe, and Asia. For more information please visit http://www.vocus.com or call 800.345.5572.
This release contains " "may," "will," "expects," "projects," "anticipates," "estimates," "believes," "intends," "plans," "should," "seeks," and similar expressions. Forward-looking statements involve known and unknown risks and uncertainties that may cause actual future results to differ materially from those projected or contemplated in the forward-looking statements. Forward-looking statements may be significantly impacted by certain risks and uncertainties described in Vocus' filings with the Securities and Exchange Commission.
###