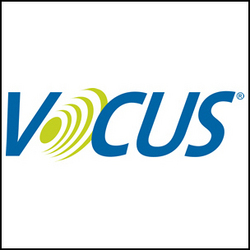 The Software as a Service model is an important driver in innovation and remains a source of opportunity for the investment community
Lanham, MD. (Vocus) February 25, 2008
Vocus, Inc., (NASDAQ: VOCS) a leading provider of on-demand software for public relations management, today announced that Chief Executive Officer Rick Rudman will speak at the upcoming Southeast Venture Conference 2008. Rudman will be featured on a panel titled "Software as a Service: A New Paradigm Emerges." The other panelists include William Blair Analyst Laura Lederman, Salesforce.com President Jim Steele and Channel Advisor President & CEO Scot Wing. The panel is scheduled for Wednesday, February 27, 2008 at 3:00 PM ET.
"The Software as a Service model is an important driver in innovation and remains a source of opportunity for the investment community," said Scott Hedrick, SEVC Director. "The SEVC hopes to showcase not only the current momentum of the model, but pave the way for continued growth."
"I'm excited to have the opportunity to share Vocus' experience alongside other leading Software as a Service companies and industry experts," said Rick Rudman, chief executive officer at Vocus, Inc. "Vocus is a pioneer in the on- demand software market and our continued growth underscores the leverage in the model."
A total of 40 companies from the southeast and mid-atlantic will be presenting to an audience representing over $50 billion in private equity investment at the annual event, scheduled for February 27-28 in Tysons Corner, VA. Presenting companies range from late-stage pre-IPO firms to earlier stage firms from a variety of technology industries and represent Washington DC, Virginia, Tennessee, North Carolina, Maryland, Georgia, Florida and Alabama.
About SEVC
The mission of the SEVC is to help support the innovation and entrepreneurial activity of emerging high growth technology companies from the southeast and mid-atlantic regions. As part of that goal, the SEVC understands the importance of investment capital to this equation and provides a key forum to help facilitate the infusion of growth capital to the regional technology community. The conference will take place February 27-28th, 2008 at the Ritz Carlton in Tysons Corner, Virginia. To learn more about SEVC 2008, visit http://www.seventure.org.
About Vocus, Inc.
Vocus, Inc. (NASDAQ: VOCS) is a leading provider of on-demand software for public relations management. Our web-based software suite helps organizations of all sizes to fundamentally change the way they communicate with both the media and the public, optimizing their public relations and increasing their ability to measure its impact. Our on-demand software addresses the critical functions of public relations including media relations, news distribution and news monitoring. We deliver our solutions over the Internet using a secure, scalable application and system architecture, which allows our customers to eliminate expensive up-front hardware and software costs and to quickly deploy and adopt our on-demand software. Vocus is used by more than 2,000 organizations worldwide and is available in five languages. Vocus is based in Lanham, MD with offices in North America, Europe, and Asia. For more information please visit http://www.vocus.com or call 800.345.5572.
This release contains " "may," "will," "expects," "projects," "anticipates," "estimates," "believes," "intends," "plans," "should," "seeks," and similar expressions. Forward-looking statements involve known and unknown risks and uncertainties that may cause actual future results to differ materially from those projected or contemplated in the forward-looking statements. Forward-looking statements may be significantly impacted by certain risks and uncertainties described in Vocus' filings with the Securities and Exchange Commission.
###