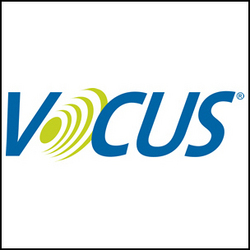 Our www.vocus.com/uc2008 [User's Conference] arms our customers with the strategies that will help get their messages to stand out in today's 24x7 media world
Lanham, MD (Vocus) May 15, 2008
Vocus, Inc., (NASDAQ: VOCS) a leading provider of on-demand software for public relations management, today announced that it will feature a panel discussing "Building Effective Relationships with Journalists" on June 6, 2008 at its annual Users' Conference. Panelists include Steve Wildstrom of BusinessWeek, J. Bonasia of Investor's Business Daily, Beth Frerking of The Politico and Rob Pegoraro of the Washington Post. The panelists will explore how to build effective media relationships that help professionals with "Cutting through the Noise" in the changing media landscape and getting attention for their message.
"Our User's Conference arms our customers with the strategies that will help get their messages to stand out in today's 24x7 media world," said Bill Wagner, chief marketing officer at Vocus, Inc. "Featuring leading journalists from some of the most influential media outlets, this panel offers our customer's insight on the most effective ways to build relationships and get their messages heard, directly from the journalists that are shaping today's news."
The seventh annual Vocus Users' Conference will take place June 4-6, 2008 at The Ritz-Carlton Hotel in downtown Washington, D.C. Vocus customers will gather to explore how their organizations are using Vocus to increase the effectiveness of their public relations, government relations and PAC campaigns. For more information and a complete schedule, please visit http://www.vocus.com/uc2008.
About Vocus, Inc.
Vocus, Inc. (NASDAQ: VOCS) is a leading provider of on-demand software for public relations management. Our web-based software suite helps organizations of all sizes to fundamentally change the way they communicate with both the media and the public, optimizing their public relations and increasing their ability to measure its impact. Our on-demand software addresses the critical functions of public relations including media relations, news distribution and news monitoring. We deliver our solutions over the Internet using a secure, scalable application and system architecture, which allows our customers to eliminate expensive up-front hardware and software costs and to quickly deploy and adopt our on-demand software. Vocus is used by more than 2,600 organizations worldwide and is available in five languages. Vocus is based in Lanham, MD with offices in North America, Europe, and Asia. For more information please visit http://www.vocus.com or call 800.345.5572.
###