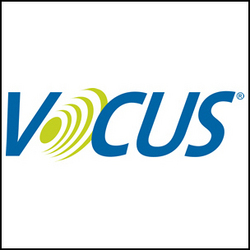 Before Vocus, we were using multiple software applications and manual processes to manage all our international media relations activities. We lacked a central, unified source for building media lists, distributing news and tracking results
Lanham, MD (Vocus) July 27, 2007
Vocus, Inc., (NASDAQ: VOCS) a leading provider of on-demand software for public relations management, today announced that VISTAGY, Inc., a leading global provider of specialized engineering software, is using Vocus PR software to help its executives manage the company's global media relations activities. Using Vocus, the VISTAGY communications team has been able to maximize its resources and effectively track the reach of the company's key messages.
"Before Vocus, we were using multiple software applications and manual processes to manage all our international media relations activities. We lacked a central, unified source for building media lists, distributing news and tracking results," said Dannielle O'Beirne, director of marketing communications at VISTAGY. "Vocus helped us streamline our process and provided a one-stop shop for managing all our media relations activities."
"We evaluated several other offerings, but it was Vocus' high level of customer service and responsiveness that ultimately influenced our decision to select Vocus," O'Beirne continued. "The Vocus system was the most intuitive solution, making it very easy to integrate with our current workflow. It also enabled us to customize our interface, reports and news distribution e-mails with our own branding. The combination of exceptional support and service, professional consulting and an industry-leading product all delivered for a very fair price, made it easy for us to choose the Vocus solution."
VISTAGY, Inc. improves the product development process for its customers by providing software which creates specialized engineering environments that are integrated directly into major commercial 3D CAD systems. The company works with many of the world's leading manufacturers in the aerospace, automotive, marine, wind energy and transportation interiors industries, including suppliers to the Boeing 787 program and the back-to-back double world champion ING Renault F1 Team. In order to best service its customers in these various industries, it is essential that VISTAGY employees stay up-to-date on top national and trade news stories. Through News On-Demand, Vocus' electronic news monitoring service, VISTAGY is able to funnel all the news from the various industries straight to its executives' desktops via e-mail, and quickly produce coverage reports that could impact lead generation or sales opportunities.
"We manage all media relations activity in-house across several hundred publications. It is therefore extremely important that we communicate with the most appropriate journalists for each topic and track all activity to organize and evaluate results," continued O'Beirne. "Vocus has helped us reach the right people at the right time, as well as track and report everything we are doing from a single source. This makes our jobs a lot easier and more productive."
About VISTAGY, Inc.
VISTAGY, Inc. develops engineering software that provides specialized functionality to significantly improve the value of commercial 3D CAD systems. VISTAGY's specialized engineering environments enable engineers to capture and communicate complete digital product definitions within CAD, thereby increasing productivity, improving the communication of product information throughout the product lifecycle, and allowing better-informed decision-making early in design. VISTAGY software is used throughout the world in the aerospace, automotive, marine, wind energy, medical, sporting goods, and transportation interiors industries. The company also offers training and consulting services. For more information, contact VISTAGY in Waltham, Massachusetts, USA, at +1.781.250.6868 or visit http://www.vistagy.com.
About Vocus, Inc.
Vocus, Inc. (NASDAQ: VOCS) is a leading provider of on-demand software for public relations management. Our web-based software suite helps organizations of all sizes to fundamentally change the way they communicate with both the media and the public, optimizing their public relations and increasing their ability to measure its impact. Our on-demand software addresses the critical functions of public relations including media relations, news distribution and news monitoring. We deliver our solutions over the Internet using a secure, scalable application and system architecture, which allows our customers to eliminate expensive up-front hardware and software costs and to quickly deploy and adopt our on-demand software. Vocus is used by more than 2,000 organizations worldwide and is available in five languages. Vocus is based in Lanham, MD with offices in North America, Europe, and Asia. For more information please visit http://www.vocus.com or call 800.345.5572.
This release contains "forward-looking" statements that are made pursuant to the Safe Harbor provisions of the Private Securities Litigation Reform Act of 1995. Statements that are predictive in nature, that depend upon or refer to future events or conditions, or that include words such as "may," "will," "expects," "projects," "anticipates," "estimates," "believes," "intends," "plans," "should," "seeks," and similar expressions. Forward-looking statements involve known and unknown risks and uncertainties that may cause actual future results to differ materially from those projected or contemplated in the forward-looking statements. Forward-looking statements may be significantly impacted by certain risks and uncertainties described in Vocus' filings with the Securities and Exchange Commission.
###