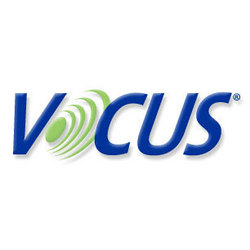 "Vocus has the reach and ability to significantly expand the number of journalist users for HARO – which means more queries and PR opportunities for PR users."
Lanham, MD (PRWEB) June 11, 2010
Vocus (NASDAQ: VOCS), a leading provider of on-demand software for public relations management, announced today more than 300 public relations, marketing, government relations and political action committee professionals flocked to Vocus' 9th Annual User Conference, titled, "The New PR Mashup." The conference is two-day event held annually in Washington, DC and is focused on thought leadership and case studies presented by an impressive roster of industry experts.
CEO Rick Rudman kicked off the event by disclosing to attendees that Vocus had acquired HARO, a widely used free PR service links nearly 30,000 reporters and bloggers with more than 100,000 small businesses and public relations professionals.
"This is the most significant piece of this announcement for me," wrote Jeremy Porter on his blog Journalistics. "Vocus has the reach and ability to significantly expand the number of journalist users for HARO – which means more queries and PR opportunities for PR users."
The key note speeches were presented by The Washington Post's media reporter and columnist Howard Kurtz; Brian Solis, principal at FutureWorks and author of the new book Engage!; and marketing expert and author, David Meerman Scott, presented on the subject of his forthcoming book: real time marketing.
Several reporters and bloggers rounded out the conference with a panel discussion on "The State of the Media" which analyzed current trends from the challenges of monetizing content to the impact of citizen journalism in this world. Panelists included:

David Berlind, Editor in Chief and Chief Content Officer, TechWeb.com
Greg Ip, US Economics Editor, Economist
Rachel Kaufman, Freelance Writer and Editor of mediabistro.com's MediaJobsDaily
Mark Preston, Political Editor, CNN
Jessica Smith, Vice President, Fleishman-Hillard, Blogger, JessicaNow.com
Vocus also recently unveiled a major software release – its Summer '10 Edition which showcases a new social media monitoring module. Kye Strance, director of product management demonstrated the new module's capabilities to customers in a session titled, "Measure the Impact of Social Media."
The conference drew accolades from attendees both off and online. For example, attendee, Jon Nisper, wrote on Twitter, "Great #Vocus conference. If you think it's all just PR you're wrong. It's marketing, IT, Legal, C- Office. Wonderful hosts and conference!"
"The Vocus User Conference is the only user conference in the public relations industry and provides an unmatched opportunity for our customers to network among peers," said Mike Savage, vice president of customer marketing for Vocus. "It's also a chance for Vocus to listen to our customers and obtain feedback for shaping our product roadmap."
Editor's note: The views of the media panelists may not necessarily reflect the views of the organization with which they are employed.
About Vocus
Vocus, Inc. (NASDAQ: VOCS) is a leading provider of on-demand software for public relations management. Our web-based software suite helps organizations of all sizes to fundamentally change the way they communicate with both the media and the public, optimizing their public relations and increasing their ability to measure its impact. Our on-demand software addresses the critical functions of public relations including media relations, news distribution and news monitoring. We deliver our solutions over the Internet using a secure, scalable application and system architecture, which allows our customers to eliminate expensive up-front hardware and software costs and to quickly deploy and adopt our on-demand software. Vocus is used by more than 6,800 organizations worldwide and is available in seven languages. Vocus is based in Lanham, MD with offices in North America, Europe and Asia. For more information, please visit http://www.vocus.com or call (800) 345-5572.
This release contains "forward-looking" statements that are made pursuant to the Safe Harbor provisions of the Private Securities Litigation Reform Act of 1995. These are statements that are predictive in nature, that depend upon or refer to future events or conditions, or that include words such as "may," "will," "expects," "projects," "anticipates," "estimates," "believes," "intends," "plans," "should," "seeks," and similar expressions. This press release contains forward-looking statements relating to, among other things, Vocus' expectations and assumptions concerning future financial performance. Forward-looking statements involve known and unknown risks and uncertainties that may cause actual future results to differ materially from those projected or contemplated in the forward-looking statements. Forward-looking statements may be significantly impacted by certain risks and uncertainties, including those described in Vocus' filings with the Securities and Exchange Commission.
Press Contact:
Frank Strong
(301) 683-6022
fstrong@vocus.com
# # #