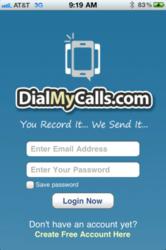 Jupiter, FL (PRWEB) January 05, 2013
DialMyCalls released their mobile voice broadcasting app last year and it was met by extreme praise. The company has been consistently maintaining the mobile app for the iPhone and with the latest update users can send personalized voice messages to thousands of people instantly from any iOS device.
The newly updated DialMyCalls iOS Application Version 1.04 fixes minor bugs that deterred users from an easy and efficient method to send out thousands of calls in seconds. On top of bug fixes to the scheduling system and user contacts, the mobile app is now compatible with iOS 6 as well as the iPhone 5 – anybody with a mobile product by Apple can now experience DialMyCalls' voice broadcasting application with absolutely no fuss.
"We have our customers to thank for the recent update to our DialMyCalls mobile app for iOS" says owner David Batchelor. "Without their consistent and helpful feedback, we would have no way of knowing of the various bugs that exist in our app nor would we know what improvements our customers would like to see – we really do appreciate their feedback."
DialMyCalls members who have the free iPhone app already installed can simply update it to the latest version (1.04) to take advantage of the recent bug fixes. If by chance the app is not yet installed on an iPhone 5 or iOS device, users can do so free of charge by downloading it from the iTunes store. Once the app is installed or updated, simply log in using an existing account and create a recording that can be sent to tens of thousands of people instantly.
DialMyCalls runs on all mobile iOS devices (4.3 +), including the iPhone 5, iPod touch and all previous versions of the iPhone. It is available for free download in the iTunes Store and can be found at DialMyCalls.com.
About DialMyCalls
DialMyCalls.com has been a highly rated provider in the voice broadcasting industry since 2006. The company strives to consistently provide the highest level of service possible to users of their mass notification system. The release of their updated iOS app proves that DialMyCalls takes their customer's feedback to heart and is constantly working to provide the best service possible.
For more information, please visit http://www.dialmycalls.com or call (800) 928-2086. You can also email tims(at)ontimetelecom(dot)com for additional information.
###