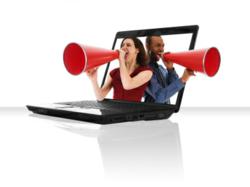 Jupiter, FL (PRWEB) October 05, 2011
Voice broadcasting provider DialMyCalls.com continues rolling out new features, the latest being their brand new voicemail greetings service. Users now have the option to choose from fourteen professional voice talent actors who will record a personalized voice message for them to send out – sound like a pro.
"People oftentimes wish they had someone else to record voice messages and our voice talent actors are a great option for them," says David Batchelor. "Professional greetings can now be recorded and sent out to thousands of recipients within 48-hours using our brand new service."
Running a business, corporation or non-profit can be a lot of work and DialMyCalls understands that. Save the stress and time of recording a message and spice up the voice mails that are being sent out through the DialMyCalls.com voice broadcasting service by hiring a professional to record personalized greetings.
When it comes to professional sounding voice messages, DialMyCalls now offers the ability to record and send automated call greetings to hundreds of thousands of people at once, quickly and efficiently.
About DialMyCalls
DialMyCalls.com was founded in 2006, steadily increasing its presence in the voice broadcasting industry. The Jupiter, Florida based company continues to add new features and their voice talent greeting service is a prime example of that. Sending millions of personalized voice messages has never been easier, all thanks to DialMyCalls.
For more information, please visit http://www.dialmycalls.com or call 800.928.2086. You can also email tims(at)ontimetelecom(dot)com for additional information.
###