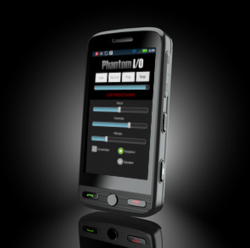 Albuquerque, NM (PRWEB) June 11, 2013
PhantomLink is pleased to announce the relaunch of the Phantom I/O Voice Scrambler App for Android platforms. Previous versions were sold exclusively as a paid download from the Google Play Store. For the product relaunch, the baseline version is being offered at no cost. Additional features will soon be rolled out and offered as paid upgrades.
Phantom I/O provides advanced voice processing capabilities not found in "toy" voice changer apps. Phantom I/O creates and decodes scrambled voice messages that to a casual listener sound like garbled noise. But for anyone listening through the Phantom I/O app, the message sounds like normal speech.
In addition to the voice scrambler capabilities, Phantom I/O includes high-quality voice changer features that can completely disguise a user's voice. The app works on real-time and recorded audio. It uses advanced DSP techniques to provide exceptional audio quality. The app even works in noisy environments.
Phantom I/O capabilities provide an entirely new marketing avenue for musicians, video producers, and software developers. Coupons and other special promotional offers can be inserted as hidden messages to be discovered by consumers. This provides better product exposure because consumers spend time watching, listening, and playing with products as they seek out the hidden messages.
Phantom I/O is available for download from the Google Play Store.
Phantom I/O was developed by PhantomLink.com, which specializes in do-it-yourself alarm monitoring solutions and wireless high-definition security cameras.