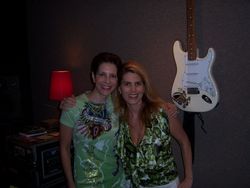 This new demo is the culmination of a year's worth of very intense, eye-opening, and rewarding training with Nancy
Los Angeles (PRWEB) October 9, 2008
When great actors, actresses and famous directors get together to make a movie, it is dubbed an "all-star cast". The same can be said in the voice over industry when one of the top female voice over talents and proclaimed "Voice of Choice", Janet Ault, pairs up with LA's top voice over coach and director, Nancy Wolfson, and studio owner and audio engineer extraordinaire, Rick Santizo, of SantiSound.
The two united to record Janet's newest commercial demo which will further Janet's branding as the "Voice of Choice". "Nancy represents the cream of the crop when it comes to demo production and voice coaching", said Janet. "This new demo is the next step in my career in order to appeal to a top-market clientele."
Janet has spent the last year training with Nancy. "This new demo is the culmination of a year's worth of very intense, eye-opening, and rewarding training with Nancy". "Nancy will not direct your demo until she feels you are ready to be the absolute best you can be".
Nancy Wolfson is one of the most sought-after consultants and freelance casting directors for commercials, animation/CD Rom, Audiobooks, promos and narration. She also writes, produces, and directs demos for voice over talents and is recommended by top-market talent agents as the premiere "go-to" person in advising talent on personal branding. More about Nancy can be found at braintracksaudio.com.
More information about Janet Ault and her voice over services can be accessed by visiting http://www.janetault.net. Janet is one of the premiere voice over talents in the industry and has more than a decade of experience as a voice over actress.
###