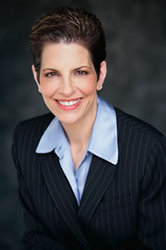 She's had a tremendous impact on everyone at the House of Broadcasting.
Phoenix, AZ (PRWEB) December 20, 2007
For the second year in a row, Janet Ault sponsored the Jewell Lewis Female Low Score Award at the House of Broadcasting Golf Classic. Ault, Phoenix's leading female voice over talent, was thrilled to be part of the 11th annual tournament, which took place at OrangeTree Golf Resort. Top of Mind Awareness Adversting's (TOMA) Diane Cubbage finished with the lowest female round, and Ault presented her with the prestigious award and an iPod Nano.
"It's such an honor to be a part of the Golf Classic," Ault says. "Sharing the day with such great broadcasting friends provides the opportunity to meet some of the best talent in the business."
The day also provides the chance to raise funds for the House of Broadcasting, a non-profit museum in Scottsdale that pays tribute to Arizona's radio and television personalities. This year's event raised over $15,000, which will help keep the museum free to the public. From old area radio stations tape reels to memorabilia from country legend Buck Owen's closet, the museum's collection features many industry artifacts.
Jewell Lewis, the name behind this particular tournament award, has played a crucial role in the state's education system over the past five decades and established successful media outlets, including KTVK-TV 3, KESZ FM, KOAZ FM, Phoenix Magazine and Desert Production Center. Lewis was inducted into the Silver Circle Society of the National Academy of Television Arts and Sciences in 1995.
"I really respect all Jewell did for the community and am honored to be the sponsor of this award," Ault says. "She's had a tremendous impact on everyone at the House of Broadcasting."
Ault's strong ability to quickly deliver quality voice overs in the studio is recognized much further than the golf course in Scottsdale. Radio and television stations across the country have featured Ault's superior voice talent. Janet Ault is a respected voice talent based in Phoenix, Arizona who dedicates her work to many areas of the audio industry. For more information and the chance to hear some of her recent work, please visit http://www.janetault.net.
###