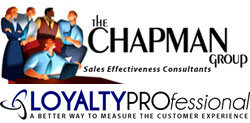 Optimizing customer feedback to drive organic and ongoing customer growth may just be the single most effective business strategy for increasing customer profits.
Columbia, MD (PRWEB) June 21, 2011
Freeman, the world's leading provider of integrated services for face-to-face marketing events, has selected to partner with LoyaltyProfessional, a strategic business unit of The Chapman Group. The Chapman Group's LoyaltyProfessional experts will work with Freeman to design and execute a "Voice of the Customer" (VoC) program using industry recognized best practices. The Chapman Group utilizes the Loyalty Index, a propriety methodology, to measure the customer experience.
When asked about the decision and the newly formed partnership, Senior Vice President of Strategic Accounts Dan Steenstrup said, "After much research, Freeman has selected The Chapman Group to serve as our official partner in gauging one of the most important aspects of our business, our customers' assessment of the health of our relationship. Chapman's Loyalty Index will be a key internal metric in a balanced scorecard approach for measuring our SAM program."
President and CEO of The Chapman Group, Dennis Chapman Sr. added, "We are as always proud to add a distinguished client such as Freeman to our growing client base. Effectively and consistently measuring the feedback from their customers will align very well to their already existing focus on client relationship management – as well as ensuring from the voice of their customers that their customers appreciate the Freeman value proposition."
About Freeman
Freeman (http://www.freemanco.com) is the world's leading provider of integrated services for face-to-face marketing events, including expositions, conventions, corporate events and exhibits. Customer driven, Freeman offers a total package of solutions to our customers, with a scope of products and services unmatched by the competition. By empowering our employees to make educated, strategic decisions Freeman delivers reliable, consistent problem-solving solutions that our customers have come to rely on. With 40 offices in North America, Freeman produces more than 3,000 expositions annually, including 107 of the largest 200 U.S. trade shows, and more than 10,000 other events worldwide. The company has received numerous awards recognizing outstanding efforts in industry leadership, customer service excellence, creative design, community service, innovation and customer-driven partnerships.
About The Chapman Group/LoyaltyProfessional
The Chapman Group, founded in 1988, is a sales consulting firm that creates world class account management programs. We assist clients of all sizes, across a broad spectrum of industries, in increasing their revenue and retention through the implementation of innovative processes, methodologies, best practices, skills and tools. The Chapman Group utilizes a metric-based approach to integrate the art with the science of account management, enabling our clients to grow by becoming more efficient, effective and profitable. Clients, National and Global, Fortune 1000 and Mid-tier, have all found considerable value in continuing their relationship with us, long after initial goals have been accomplished. Clients often request The Chapman Group to monitor performance while providing support in the form of strategic planning, coaching and skills training.
###