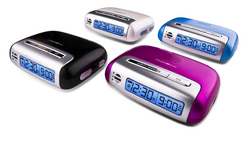 The Moshi Voice Control www.moshilifestyle.com [Travel Alarm Clock __title__ travel alarm clock] is truly the best travel companion you can have
Woodland Hills, CA (PRWEB) October 14, 2009
Sleek, compact and dependable, the Moshi Voice Control Travel Alarm Clock is suited to travelers who are looking to wake up with the personalized and reliable experience of sleeping in the comfort of their own home. With Moshi, there is no need to worry about unfamiliar hotel alarm clocks or untrustworthy wakeup calls.
"The Moshi Voice Control Travel Alarm Clock is truly the best travel companion you can have," says Michael Nostrant, president and CEO of Moshi parent company SNS International. "Only 18 percent of travelers trust a hotel alarm clock to wake them up. I definitely fall into the majority that do not trust hotel alarm clocks and when I'm traveling for business, it's important that I not only wake up on time, but can easily set the time and alarm. When I'm jetlagged or exhausted from a long day of travel, the last thing I want to do is get up and fiddle with a clock that won't even do what I want."
The Moshi Travel Alarm Clock delivers the personalized comfort and convenience embodied in the acclaimed Moshi Voice Control (VC) Alarm Clock. Named by Good Morning America as the "Favorite Device" at the 2009 Consumer Electronics Show, the Moshi VC Alarm Clock is the first listening clock that can set the time and alarm by voice alone. With technology that listens, all Moshi devices are capable of understanding almost anyone's voice right out of the box - no pre-programming necessary.
Availability and Pricing
The Moshi Voice Control Travel Alarm Clock is currently available at Moshilifestyle.com and through other authorized resellers, starting at $24.99. For more information, please visit: http://www.moshilifestyle.com.
w w w . m o s h i l i f e s t y l e . c o m
About Moshi
Moshi specializes in interactive voice recognition technology that is applied to consumer electronics, primarily alarm clocks. Our voice-activated alarm clocks, equipped with Technology That Listens™, are made personally for our customers. They listen to your every command, whether you are setting the alarm from your bed or asking the temperature from the closet.
Moshi is guided by the belief that electronics should work for you and not against you. Just talk to your clock and it will listen, as all electronics should. Moshi products cater to the fundamental needs of children, adolescents, adults, and seniors alike. Our customers look for fresh, unique and innovative products that provide efficiency and comfort to their lifestyle. For more information, please visit http://www.moshilifestyle.com.
###