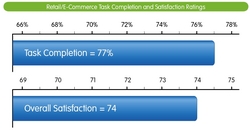 While Overall Satisfaction is a key measurement of online success, our studies reveal why it should be accompanied by Task Completion indicators
Montreal (Vocus) April 6, 2010
iPerceptions Inc. (TSX-V:IPE), a leading provider of Voice of Customer web analytics, has issued its latest Retail/E-Commerce Industry Report. The report analyzes post-experience feedback from over 500,000 visitors to over 200 retail and e-commerce sites during the critical fourth quarter. The results reveal the greatest obstacles to online purchasing providing marketers with intelligence to improve online engagement and conversion.
Key findings from the study underscore the importance of measuring both Task Completion and Overall Satisfaction. While Overall Satisfaction remained relatively constant among visitors within the purchase funnel (those coming to learn, shop and buy), Task Completion varied significantly between those coming to buy and those coming to learn and shop. Buyers reported lower Task Completion rates indicating that their particular needs are not being met. For a business that is already doing $100 million per year in online sales, a 65% Task Completion rate among buyers means that a further $54 million in potential sales is simply walking away.
Additional Insights:
Supporting the trend of high fourth quarter online shopping activity, the report found 79% of online visitors reporting intentions related to purchase funnel activity: 'Learn', 'Shop' or 'Buy'. A significant portion, 19%, reported being in the 'Buy' phase compared to 16-17% in previous quarters.
40% of buyers cited "Product offering/availability" as a key barrier to completing their tasks. 35% reported navigation issues and 9% said 'insufficient product information' prevented them from moving forward. Shipping policy/price concerned 8% of buyers while only 5% reported "Price" as a main purchasing obstacle. Finally, 'Technical' barriers prevented 3% of buyers from purchasing.
"While Overall Satisfaction is a key measurement of online success, our studies reveal why it should be accompanied by Task Completion indicators," said iPerceptions President and CEO Claude Guay. "Without measuring Task Completion rates, online businesses may be missing crucial signs of unfulfilled visitor needs. In the fourth quarter, these were product offerings and availability. To continuously ensure consumers' needs are being met, web-based businesses can benefit tremendously from adding Task Completion rates to their key metrics."
The Retail/E-Commerce Industry Report Q4 2009 comprises aggregated data collected from iPerceptions' enterprise solution, webValidator™, and free 4Q studies deployed on the web sites of leading retail and e-commerce brands. The full report can be found on the iPerceptions website at: http://www.iperceptions.com/en/resource-center
About the iPerceptions Satisfaction (iPSI) Index | The iPerceptions Satisfaction Index (iPSI) is derived from more than 85 million satisfaction and experience data points obtained from over six million individual website visitors in the context of their actual site visits. The iPSI covers over 30 verticals, including automotive, travel, and e-commerce. It features a perceptual framework to isolate and evaluate key elements of the visitor experience, along with predictive algorithms and modeling to uncover the attributes with the greatest impact on satisfaction. As a result, the iPSI delivers the clearest and most accurate understanding of the key issues impacting satisfaction, intent, task completion and customer loyalty.
About iPerceptions
iPerceptions is a leading web-focused Voice of Customer analytics provider. Its webValidator Continuous Listening solution, free website survey solution, 4Q, Web Analytics Solution Profiler (WASP) and proprietary iPerceptions Satisfaction Index (iPSI) turn thousands of data points into easy-to-understand strategic and tactical decision support for website marketers. iPerceptions' clients include such well-known brands as InterContinental Hotels, General Motors, Dell, Hyundai, LG Electronics, Choice Hotels International, BMW and Monster Worldwide. For more information, please visit our site at http://www.iperceptions.com.
The TSX Venture Exchange does not accept responsibility for the adequacy or accuracy of this press release.
Investor information:
iPerceptions Inc
Claude Guay
President & Chief Executive Officer
514-488-3600
Fax: 514-484-2600
###