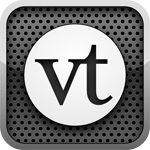 VoiceThread is the highest quality, most dynamic and empowering web tool available to teachers and students for learning projects... and I have tried everything. - Brad Wilson
Durham, NC (PRWEB) December 14, 2011
VoiceThread, a collaborative web service used by more than 25% of the top 100 universities and colleges in the U.S.[1] and in over 4000 K-12 schools around the world has released an iOS app that bridges the 'collaboration gap' that exists between the iOS and non-iOS world. The new app enables people with or without an iDevice, to connect and collaborate around a cloud-based "media campfire" that hosts and centers a conversation around videos, images, presentations and documents. The discussions are secure, and provide multi-sensory dialog and interactivity via text, voice and video - all with integrated annotations.
"This iOS app, with its sister web-app, provide full-presence communication in a time-shifted framework, like webinars when you want them, Skype without scheduling, and meetings made without consulting the group calendar. It's not live, it's better than live." says Director of Product, Steve Muth.
According to cognitive brain research, interactivity, engagement and mobility are core requirements for successful learning. VoiceThread enhances these qualities in almost any area of instruction, from kindergarten to post-graduate studies to corporate training.
"Multi-media commentary is a more effective way to communicate complex ideas, it's also more engaging, but it needs to be simple or people won't use it. This new iOS app enables iDevice users to easily interact and collaborate with anyone, without worrying whether their audience lives on iOS island or not" says Ben Papell, Director of Business Operations.
Key Features:

Unique multi-modal commentary combines voice, video and touch into a single animated comment
Multi client cloud platform - html, Flash, iOS - all accessing a single database
Media agnostic, support for over 30 types of digital media
Export/Archive media discussions as HD video files
ERP and SIS integration ready
Enterprise security architecture
About VoiceThread
VoiceThread is a communication platform for time-shifted teaching, learning, training and collaboration. VoiceThread allows users to create and share multi-sensory conversations around most file types - documents, photos, video - and share comments and annotations using a simple URL. Stunningly simple and accessible, VoiceThread is already in use by executives, kindergartners, professors and engineers around the world. More than 25% of the top Universities in the U.S. use VoiceThread to connect and communicate around digital media.
###