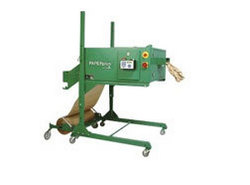 AIRplus® packaging cushions are inflated at the point of packaging. This feature allows end-users to drastically reduce the storage space needed for packaging materials
Fairless Hills, PA (PRWEB) March 4, 2010
ISC Salesmaster Corp., a supplier of packaging products and equipment, today announced the offering of a full product line of void fill packaging and cushioning solutions from STOROpack including paper, air, and foam-in-place systems.
"STOROpack has been operating successfully in the market for nearly 50 years and is the leading systems supplier of protective and transport packaging," said Tom Northrop, Marketing Manager at Salesmaster Corp. "We're excited to be offering the wide range of void fill equipment and supplies from STOROpack to help our clients meet a variety of packaging needs."
Void fill and cushioning systems include PAPERplus® paper packaging materials and equipment, AIRplus® air filled packaging materials and machines, and FOAMplus® foam-in-place cushioning systems. Each packaging material has unique advantages and is available in solutions for both high volume shipment and light-use applications.
Versatile and cost effective, Storopack's PAPERplus® packaging systems include machines that create ultra-strong paper cushioning, with high efficiency, while using less paper. In addition, high-speed paper filler models are available for high-volume applications. All PAPERplus packaging products are made using a combination of recycled and virgin paper in order to reduce costs and remain environmentally friendly.
AIRplus® is a low-cost, highly effective interior cushion, block and brace, and void-fill option that delivers significant benefits, including space saving through source reduction.
"AIRplus packaging cushions are inflated at the point of packaging," said Northrop. "This feature allows end-users to drastically reduce the storage space needed for packaging materials."
AIRplus offers clean, dust-free protection, small footprint with fast output, and adjustable inflation control to achieve the proper amount of cushion for individual packaging requirements. In addition, a triple-layer co-extruded film supports source reduction, provides increased elasticity and reduced air leakage. All air pillows are separated with a perforated film that aids easy separation and handling.
"The most protective packaging option is the FOAMplus® from Storopack," said Northrop. "The foam packaging systems provide a unique on-demand, foam-in-place packaging solution that fits like a glove to protect any product."
The most efficient option of the paper, air, or foam void fill packaging systems, FOAMplus universal foam offers considerable cost savings compared to paper or air packaging by reducing source material up to 35%. FOAMplus molded cushions are produced on-demand at the packing station and conform exactly to the shape of any product or can be produced in standard molded shapes.
FOAMplus offers multiple protection and efficiency benefits including resilient and impact resistant to absorb transportation shocks, a lightweight design that lowers transportation costs, simple to operate foam-in-bag and direct foam system choices, and a clean, easy to use, space-saving design.
Salesmaster is currently offering aggressive pricing on all STOROpack void fill equipment and packaging materials. Products are in-stock and available for quick delivery. In addition, Salesmaster's experienced personnel can assist in selecting the appropriate void fill or cushion packaging solution for your application whether you goal is to 'go green' or maximize efficiency. For more information on STOROpack void fill packaging products, call 215-295-2300 or visit salesmastercorp.com.