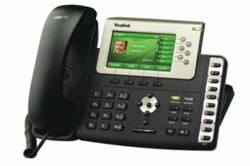 The new Yealink T38G VoIP phone is coming as an upgrade to the very popular Yealink T28 model, to provide a more powerful and secure SIP VoIP phone for critical high-performance applications. At $249 it's a real bargain
Bayshore, NY (PRWEB) June 23, 2011
TelcoDepot.com is pleased to announce the addition of the Yealink T38G SIP VoIP Phone to its family of VoIP phone system products. The Yealink SIP-T38G comes as an upgrade to the popular Yealink T28P SIP VoIP Phone, and is intended to provide the latest innovation in VoIP telephony for businesses. The T38G supports seamless migration to GigE-based network infrastructure and proves to be a highly scalable and worthwhile investment for businesses looking to upgrade their communications network in the near future. Other new features include a Dual-port Gigabit Ethernet for lower cabling expenses, a high-resolution TFT color display, intuitive user interface, High Definition (HD) handset, speaker and codec (G.722) to provide a life-like audio experience. The new T38G also supports security standards that prevent unauthorized recording of data, including TLS, SRTP, HTTPS, 802.1x, Open VPN and AES Encryption. The T38G is a premium phone system solution for businesses that require security and high-end performance. Interestingly, the T38G is much cheaper than equivalent VoIP phones with an MSRP of only $249.
Yealink phones are one of the most business-friendly VoIP phone systems available anywhere, and TelcoDepot.com stocks different classes of Yealink VoIP phones for small businesses - there are entry level Yealink VoIP phones such as the Yealink T20P, which are great for small businesses with basic VoIP infrastructure and provide the required tools for effective VoIP communication at that level. Professional models like the SIP-T22P provide more lines, more flexibility and more tools for effective communication. There are also advanced models like the T26P with 3 lines and 12 programmable buttons as well as a host of new features to deliver optimized business communications. TelcoDepot.com also offers the Yealink SIP-T28P 6-line Executive VoIP phone for use on IP hosted or IP PBX service. And now, TelcoDepot.com brings you the Yealink SIP-T38G 6-line GigE enabled Color LCD executive VoIP phone, which is power-packed with a host of high-end and high-performance features, and can also be used with IP hosted or IP PBX service.
The Yealink T38G is a VoIP phone that is big on features, but also on style and performance. It is a future-proof phone that provides technology that will still be relevant in the near future, and it can be used to reliably build scalable communications infrastructures that will continue to grow and provide competent support for developing communications technology.
On the business features side, the Yealink T38G SIPExecutive VoIp phone is simply loaded with business phone features including 6 VoIP accounts, Hotline, Emergency call, Call hold, Call waiting, Call forward, Call return, Call transfer (blind/semi-attended/attended), Caller ID display, Redial, Mute, DND, Auto-answer, 3-way conferencing, Speed dial, SMS, Voicemail, Message Waiting Indication (MWI) LED, Tone scheme, Volume control, Direct IP call without SIP proxy, Ring tone selection/import/delete, Phonebook (1000 entries), Black list, Call history: dialed/received/missed/forwarded, Menu-driven user interface, Localized language and input method, Soft keys programmable, Supports up to 6 expansion modules(EXP39), Supports Wireless Headset Adapter(EHS36), and much more.
On the advanced features side, the Yealink T38G is a giant with XML phonebook search/import, LDAP phonebook, XML Idle Screen, Action URL & Active URI, Background Pictures, Screensaver, Color Picture Caller-ID, Theme, Screen Sleep, IP PBX System Integration including Busy lamp field (BLF), BLF list, (BLA), DND & Forward synchronization, Intercom, Paging, Music on hold, Call park, Call pickup, Call recording, Call completion, Group listening, Group pickup, Anonymous call, Anonymous call rejection, Network conference, Distinctive ringtone, Dial Plan, Dial-now and a host of other features.
The Yealink T38G is an ideal phone for just about all VoIP phone systems, and is an excellent choice for the high-powered executive with the desire to take business communications to another level.
The pricing details of the Yealink T38G, which is a new addition to the TelcoDepot.com family of Yealink VoIP business phone systems, are even more interesting. TelcoDepot.com is offering the highly-capable VoIP business phone with mouth-watering features and a future-proof configuration supporting dual-port Gigabit Ethernet and HD Voice, for a very low price of just $249 (same as the MSRP for the phone) - much lower than you can get for equivalent VoIP phones. Talk about a great value offer.
Quoting a Company spokesperson about the new VoIP phone:
"Our new Yealink T38G VoIP phone is coming as an upgrade to the very popular Yealink T28 model, to provide a more powerful and secure SIP VoIP phone for critical high-performance applications. We are very happy to be able to provide our customers with a VoIP phone of this class for only a fraction of the cost of equivalent VoIP phones. The Yealink T38G delivers more power, more functionality, more performance and more scalability for high-flying businesses with prospects for significant near-future growth. We definitely recommend this VoIP phone system for small businesses looking to create high-performance, low-cost and highly scalable VoIP infrastructures for their present and future communication needs."
TelcoDepot.com continues to provide businesses with phone system solutions that give them flexibility and performance, while keeping costs low. The Yealink range of business phone systems provided by TelcoDepot.com have always stayed true to this model; providing best-in-class solutions at highly affordable prices - and now, the T38G SIP VoIP phone system for businesses is taking the offer to another level entirely with a power-packed high-end solution which is heavy on high-performance functionality, features and security but served at the kind of low prices TelcoDepot.com is known for - it's all about great-value superior and adaptable phone system solutions for small businesses. For more information on the new Yealink T38G interested parties may contact Telcodepot at 1 800 390 1200 or visit Telcodepot.com.
About TelcoDepot.com
Telco Depot is a leading supplier of quality business telephone systems, business VoIP service, VoIP phone systems, phone headset equipment, video surveillance systems, voice & data cabling solutions, conference phone solutions and Microsoft Response Point Systems. The company's top priority is to help its clients make informed decisions based on their specific small business phone system needs by providing experience and expertise and guiding them in selecting the best phone systems for their businesses. Telco Depot ensures that their phone systems are fully scalable, affordable priced, and provide the highest value for their clients.
###