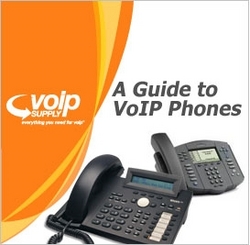 Buffalo, NY (PRWEB) June 15, 2010
VoIP Supply, North America's leading supplier of Voice over IP (VoIP) equipment and complete systems, today announced the release of their VoIP Phone Buyers Guide. The VoIP Phone Buyers Guide is the second guide to be released from their "Learn More" series of educational guides to VoIP equipment.
"As VoIP technology hits the mainstream prosumer there is a great need for educational resources that help demystify and explain the various components that comprise a complete VoIP solution so that solid purchase decisions can be made," stated Garrett Smith, Director of Marketing and Business Development at VoIP Supply, LLC. "The VoIP Phone Buyers Guide is that type of resource."
Written in a vendor neutral and straight forward style by the VoIP equipment experts at VoIP Supply, the VoIP Phone Buyers Guide is a free download that enables anyone to:
Learn VoIP phone technology
Explore important features
Evaluate current offerings
Receive step-by-step buying instructions
View the phones users love
And gain valuable insights to make the right purchase decision
For more information about the VoIP Phone Buyers Guide or to download for free, please visit http://www.voipsupply.com/voip-phone-guide.
About VoIP Supply
VoIP Supply, LLC (http://www.voipsupply.com), a division of Sayers Technology Holdings, is North America's leading supplier of VoIP Equipment and complete systems with offerings for businesses, service providers and resellers. In addition to a comprehensive product catalog, the company offers technical support, extended warranties, device configuration, installations and logistical services. VoIP Supply is a three-time INC 5,000 honoree and in 2007, was ranked number 45 on the Entrepreneur Magazine's Hot 100 fastest growing companies in the U.S. VoIP Supply has also been recognized as one of the Best Places to Work in Western New York by Buffalo's Business First Newspaper, one of the Top 100 privately held companies in WNY, as well as the fastest growing company in WNY for 2006 by winning the Business First Fast Track 50 Award.
# # #