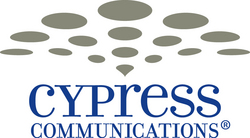 As a non-profit organization, we were looking to save money everywhere and anywhere we could—including our communication expenses—and C4 IP represents a huge cost savings for us.
Atlanta (Vocus) May 7, 2010
New York Theatre Workshop (NYTW), an innovative off-Broadway theatre, implemented Cypress Communications® C4 IP® hosted unified communications solution for its cost savings, comprehensive communications management and features.
"As a non-profit organization, we were looking to save money everywhere and anywhere we could—including our communication expenses—and C4 IP represents a huge cost savings for us," said Tommie Mitchell, finance and administrative assistant at New York Theatre Workshop. "With C4 IP, we didn't have to buy a PBX, phones or other hardware, and everything is included in the monthly cost, which made budgeting much easier. Having one service provider manage all our communications—including dial tone, long distance, phones, hardware, software and programming—was especially appealing. After a poor customer experience with our previous providers, it was refreshing to have everything monitored and managed through one professional service provider."
Beyond the cost benefits and total solution management of hosted unified communications, NYTW gained a slew of features they didn't have with their previous phone solution.
"C4 IP gave us 21st-century features that we didn't have with our old 19th-century system," Mitchell continued. "With our previous phone system, we didn't even have caller ID and couldn't forward calls; more complicated tasks such as changing the time to reflect daylight savings required a technician. C4 IP has been a breath of fresh air. The sound quality is crisp and clear, call handling is better, and we can easily conduct conference calls."
NYTW also attained the data bandwidth they need to work on the video- and graphic-intensive projects they use to promote the organization. Coming from an extremely slow Internet service previously, NYTW benefitted greatly in terms of productivity with the expanded data capacity.
Frank Grillo, executive vice president of marketing and customer support at Cypress Communications, added, "Organizations both big and small can increase employee performance and overall operational efficiency through unified communications, but the numerous costs that go into standing up and supporting an in-house solution make the prospect of upgrading incredibly daunting in this economy. But that's exactly where C4 IP's hosted delivery model really shines. Requiring no upfront capital expense and no ongoing maintenance costs, C4 IP enables innovation and business process improvements with its expanded capabilities while lowering telecommunications spend."
C4 IP is a cloud-based unified communications solution that comes complete with integrated voice and data business services, IP phones and soft phones, Microsoft® Outlook integration, unified messaging and a wide range of advanced collaboration functionality. Cypress manages the solution from its network cloud to the business phone on each desk, ensuring the highest quality communications experience.
Named for its ability to help small-to-medium enterprises connect, communicate, collaborate and continue®, C4 IP can be customized to fit individual employee roles. It can also be scaled up or down to fit an organization's evolving communications needs.
About New York Theatre Workshop
New York Theatre Workshop (NYTW) is a remarkable off-Broadway theatre noted for its acclaimed and innovative productions. It's a workshop where artists create new work, hone their craft and collaboratively explore theatre, rooted in the cozy East Village digs in the heart of New York's downtown arts scene. NYTW is committed to the development of innovative theatre by supporting theatre artists at all stages of their careers, providing an environment where work can be created without artistic compromise and the forbidding financial demands often associated with commercial ventures. The organizations' web address is http://www.nytw.org.
About Cypress Communications
For over 25 years, Cypress Communications has been helping small-to-medium enterprises (SMEs) connect, communicate, collaborate and continue® with a range of fully hosted and managed voice, data and Internet solutions. Beginning in 2006, Cypress revolutionized the communications industry with its hosted VoIP and hosted unified communications solution, C4 IP, making it easy for SMEs to take advantage of productivity-enhancing technology such as integrated audio and web conferencing, multimedia collaboration tools, presence, chat, Microsoft® Outlook integration, and more. As a Deloitte Fast 50 and Fast 500 award recipient, Cypress is recognized as one of the fastest growing telecommunication companies in North America. Cypress has won a total of 26 awards for excellence and product innovation to date. The company's web address is http://www.cypresscom.net.
For more information, contact:
Heather Whitt Roberts
Cypress Communications
404-442-0034
© 2006-2010 Cypress Communications, Inc. The Cypress Communications logo is a registered service mark of Cypress Communications, Inc. C4 IP and Connect. Communicate. Collaborate and Continue are registered trademarks of Cypress Communications. All other marks used herein are the property of their respective owners.
###