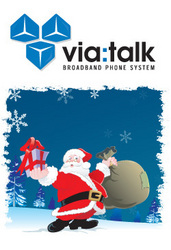 Clifton Park, NY (PRWEB) December 1, 2009
ViaTalk is allowing children across the country to connect to Santa free of charge this holiday season via telephone, and directly deliver their Christmas wish list to the big guy and his helpers at the north pole (that's you mom and dad!). Additionally, one lucky child will be selected at random to have their wish list granted for free courtesy of ViaTalk, a $300 in value!
To connect your child to the north pole, simply enter on the site the number you will be calling from and your e-mail address. After your child calls, a recording of their wish list will be delivered to your e-mail in-box for you to listen to at your convenience.
The parents of one lucky child will be contacted on Dec. 20th, 2009, and will receive a $300 Amazon.com gift card to help make their child's holiday wishes come true this holiday season.
This free service is available nationwide to customers and non-customers alike, simply by signing up at http://santa.viatalk.com, so be sure to tell your friends and family!
Current ViaTalk customers can access the north pole directly by clicking on Santa himself in their account control panel. Happy Holidays from the entire ViaTalk team!
About ViaTalk:
ViaTalk is a division of HostRocket.Com, Inc., a Web hosting provider. HostRocket.Com, Inc. started up in 1999 and is headquartered in Clifton Park, New York. Unlike most tech companies, HostRocket.Com, Inc. is privately owned and has experienced steady growth.
Founded in 2005, ViaTalk serves over 6,000 individual markets spread across all 50 states, utilizing VoIP (voice over Internet protocol) to provide high quality home phone service. The company provides a variety of monthly plans, all of which include over 40 calling features.
Setting itself apart from other telecommunication companies, ViaTalk aims to provide stellar customer service while continuing to drive innovation in the industry.
For more information about ViaTalk and its monthly plans and services, visit the Web site.
Media Contact:
Brendan Brader
518-631-2360
brendan (dot) brader (at) viatalk.com
###