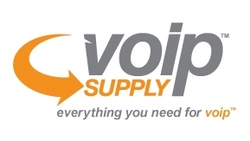 After weighting a couple of options, we found the right partner in Bandwidth.com. Its business culture, offerings and customer-centric approach aligned perfectly with ours
Buffalo, NY (PRWEB) July 10, 2008
VoIP Supply LLC, a leading internet retailer of IP-based phone systems, VoIP hardware components and a complete VoIP solutions provider, announced today that it has selected Bandwidth.com to provide voice and data services for its end-to-end phone system solutions for small and medium-sized businesses. In selecting Bandwidth.com, VoIP Supply will now be able to offer businesses complete nationwide advanced Internet, VoIP, network and wireless services in addition to its current phone system and VoIP hardware offerings.
The partnership, VoIP Supply's first with a voice and data service provider, represents a strategic investment in the delivery of complete telephony solutions to the small medium business marketplace; allowing the company to further solidify itself as a market leader "with everything you need for VoIP."
"After weighting a couple of options, we found the right partner in Bandwidth.com. Its business culture, offerings and customer-centric approach aligned perfectly with ours," stated Benjamin P. Sayers, CEO at VoIP Supply. "As more businesses consider the switch to IP-based phone systems, Bandwidth.com's flexible and affordable offerings will allow VoIP Supply to be uniquely positioned within the marketplace to help small businesses realize greater cost savings, increased productivity, and painless user management with their VoIP deployments."
"We are very excited about our partnership with VoIP Supply," said Henry Kaestner Co-founder and Chairman of Bandwidth.com. "VoIP Supply is a true leader in the business telecom industry with a commitment to excellence that is readily apparent in all aspects of their business from corporate culture to the way they treat their customers. We believe that this new one-stop shop approach to all things VoIP, from hardware to service, is exactly what businesses are looking for. We look forward to exceeding customer expectations in as give them better telecom functionality and quality, all while saving them money."
VoIP Supply is committed to providing superior IP-based phone system solutions to the small medium business sector. VoIP Supply offers phone system solutions from leading IP PBX providers such as Digium, SwitchVox, Fonality, Grandstream, trixbox, and Talkswitch, among others. For more information on the small medium business IP phone systems from VoIP Supply, please visit VoIP Supply's phone system section.
About VoIP Supply:
VoIP Supply, LLC (http://www.voipsupply.com), a division of Sayers Technology Holdings, is a leading Internet Retailer of Voice over IP Hardware. In addition to a comprehensive catalog of IP Phones, Telephone Adaptors, VoIP Gateways, and Small Business IP PBX solutions, the company offers technical support, extended warranties, and logistical services for end-to-end customer solutions. VoIP Supply was recognized nationally as number 359 on the 2007 Inc. 500 fastest growing privately-held companies in America and number 45 on the Entrepreneur Magazine's Hot 100 fastest growing companies in the U.S. VoIP Supply has also been recognized as one of the Best Places to Work in Western New York by Buffalo's Business First Newspaper, one of the Top 100 privately held companies in WNY, as well as the sixth fastest growing company in WNY by the Business First Fast Track 50 Award.
For additional information about VoIP Supply write: VoIP Supply, LLC, 454 Sonwil Dr., Buffalo, New York 14225, call us at 1-716-630-1555, visit the company's Web site at http://www.voipsupply.com or email: nschuman @ voipsupply.com.
###