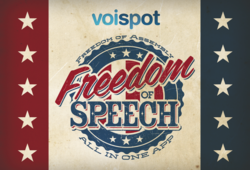 Boca Raton, FL (PRWEB) October 22, 2012
Voispot, Inc. has announced that they have accepted an invitation from Lynn University in Boca Raton, FL, to be one of the select companies to participate in the Social Media Lounge at debate headquarters before, during, and following the presidential debate on October 22. Other companies joining Voispot in the Social Media Lounge include Facebook®, Twitter®, YouTube®, and Google®. This will be the third and final debate between Barack Obama and Mitt Romney, and Lynn University is poised and ready to welcome them.
"We are honored to be invited to feature our new voice-activated social media platform at this landmark event," says Chief Marketing Officer of Voispot, Laura Whalen. "The Voispot team has enjoyed working with MBA students at Lynn University for the past few months on a university sanctioned project to help launch this innovative, cutting-edge technology platform that fosters and simplifies virtual communication. Now that voispot is publicly available, it gives everyone—from the enterprise company to the small business to interest groups to individuals—the ability to share their thoughts with the world in real-time, from anywhere and on-demand. What better time and place is there to launch our game-changing social media platform, than during this historic event that is taking place on the Lynn University campus?"
voispot is a social communication platform that allows users to host group conversations about common interests. It is a free, cloud-based mobile application with which users can instantly create virtual auditoriums where they can start and participate in live discussions. Audience members can join for free to listen, ask questions, and engage in real-time. There's no need to type your thoughts, as you would with traditional social media formats, such as chat rooms, forums, or blog sites. With voispot, communication is simple and easy—just use your voice. The sky's the limit on the ways you can use it, the subjects you can discuss, and the number of attendees you can have; for example, invite ten, five-hundred, or five-hundred thousand to listen in and participate—anywhere, anytime, and on any topic, with crystal-clear sound.
Voispot, Inc. is headquartered in Boca Raton, Florida (US). Visit http://www.voispot.com for more information, and download the free voispot app for the Apple® iPad®, iPhone®, and iPod Touch® from the App Store, to join the worldwide conversation.