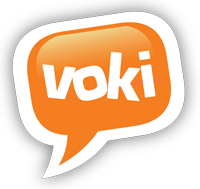 New York, NY (PRWEB) May 31, 2013
Voki, the leading online solution for using speaking animated characters for education, has launched their summer special for Voki Classroom. Starting in May through the end of July, Voki users will receive free extra months when they sign up for a 1 or 2 year Voki Classroom subscription. If you sign up in June, you will get 2 extra months of Voki Classroom. If you sign up in July, you will get one extra month of Voki Classroom.
This special is great for teachers who are new to Voki Classroom and need some time to explore it or for teachers who want to get a head start before the actual school year. Now, teachers can get comfortable using Voki Classroom before the new school year starts at no extra cost.
To take advantage of the Voki Classroom Summer Special and more information on Voki Classroom, please visit the Voki Product page.
About Voki
Voki was launched in 2007 to enable teachers and students to use speaking animated characters for teaching and learning. Students can select from many different types of characters, customize them with different hairstyles, clothing and other accessories, and enter text for the characters to speak in over 25 languages. Students can also record their own voice for the animated character to speak. Voki has over two million registered users and is used by teachers in over 70 countries to make teaching and learning fun!
About Voki Classroom
Voki Classroom is a classroom management system for Voki. Voki Classroom is designed to enhance the way teachers manage students' Voki assignments and make both class work and homework more efficient, by automatically organizing student's work for display, and by automatically creating individual workspaces for students and specific assignment pages for each lesson. View the Voki Classroom introductory video to learn more!
Contact
For further information, contact the Voki Team at info(at)voki(dot)com