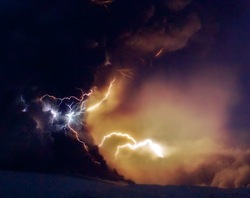 Get out of the airport, get out of your hotels: this is a chance to see a landscape changing before your eyes!
Vancouver, Canada (Vocus) April 23, 2010
While the recent eruption of Eyjafjallajökull in Iceland is wreaking havoc for millions of would-be air-travelers throughout Europe, Iceland tour guides are euphoric. Of course they aren't spending their time in an airport departure lounge – they're too busy getting as close as they can to one of nature's grandest spectacles. And inviting travelers to join them.
While getting to Iceland from Europe is a challenge, it is still open for North American travelers and of course, those people still waiting in Reykjavik to catch a connecting flight to Europe.
One of the guides offering these tours is long-time resident of Reykjavik, Tony Brackley. He is an avid nature photographer, and also works as a tour guide with ToursByLocals. When Eyjafjallajökull started erupting last week, Tony put his passion for photography and adventure travel together to create a Photographer's Volcano Tour. He exorts those thousands of frustrated travelers currently stuck in Reykjavik to see the silver lining in their situation: "Get out of the airport, get out of your hotels: this is a chance to see a landscape changing before your eyes!" Tony will take small groups of people to the best vantage points for witnessing and recording the spectacular active volcano.
Other tours on offer include one from highly rated ToursByLocals guide Stefan Valsson. His 12 hour "Volcano Aftermath" tour includes a visit to other highlights on the spectacular South Shore of Iceland. As well as seeing the volcano itself, you'll see how it has affected the life of Icelanders living in the region.
If you'd like to see the volcano from the air as well as the ground, you could take a driving and hiking tour from ToursByLocals licensed guide Guðrún Sigurðardótti. This tour offers hiking to get the best view and an optional 1 hour helicopter flight over the affected area.
Cost of these small group, private tours ranges from $390 USD to $800 USD for the ground portion. On a 'per person' basis, this works out to only $100 per person. The helicopter option for up to 4 people would add $2,700 USD.
ToursByLocals President, Paul Melhus, expects additional tours to be available soon when more of the company's Icelandic guides realise that the source of so much global inconvenience also doubles as a stupendous tourist attraction.
If, as many experts predict, the volcano remains active for the next couple years, Melhus expects these tour offerings could become one of the region's most popular tours for the adventurous, socially responsible travelers who use ToursByLocals.
About ToursByLocals
Launched in November 2008, Vancouver-based ToursByLocals connects travelers with local guides. Using internet technology, the company help travelers make a secure connection and transaction with knowledgeable local guides in any part of the world.
ToursByLocals is committed to promoting ethical tourism. By growing a global network of independent tour guides, ToursByLocals empowers these individuals to be in business for themselves, while giving travelers a more authentic experience of local culture through the private tours offered by these guides.
Travelers who want to travel in a socially responsible way now have the option of hiring one of 600 independent local guides in over 73 countries (and growing) through ToursByLocals.com.
###