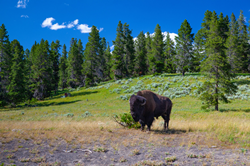 SUMMIT, N.J. (PRWEB) April 10, 2019
This year, National Park Week runs from Saturday, April 20 to Sunday, April 28. While no national parks are close to New Jersey, Summit-based dealership Douglas Volkswagen knows that these special treasures are top road trip destinations for drivers.
To help drivers get the most out of their next American national parks adventure, Douglas Volkswagen has posted some special articles on its blog. Some of these articles include mistakes to avoid when visiting the national parks, the dimensions of the Tunnel Log in California's Sequoia National Park to determine if the Volkswagen Atlas can fit through and how much fuel the Volkswagen Atlas needs to visit some of Douglas Volkswagen's favorite national parks.
In addition to the blog, Douglas Volkswagen can help drivers get ready for their next national parks adventure by offering an extensive selection of current Volkswagen models. Many of these models – including the Volkswagen Atlas, Volkswagen Tiguan, Volkswagen Golf SportWagen and Volkswagen Golf Alltrack – come with standard or available 4MOTION all-wheel drive. This mechanism provides extra power and traction for trekking on steep mountain roads that some of the national parks – particularly Yosemite National Park in California and Rocky Mountain National Park in Colorado – are famous for.
Drivers who already own a Volkswagen vehicle can find specialty service at Douglas Volkswagen before they head out on their national parks adventure. This specialty service includes mountain trekking preparation maintenance, which focuses on the braking system, light system, tires and transmission to ensure a safe drive on mountain roads.
To get the most out of their next national parks adventure, drivers are invited to visit the Douglas Volkswagen website and blog at http://www.douglasvw.com or contact the dealership by phone at 855-453-7323. Douglas Volkswagen is located at 491 Morris Avenue in Summit.