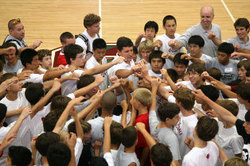 We paid tribute to Al in the locker room
San Rafael, CA (Vocus) May 12, 2010
US Sports Camps is proud to recognize the Stanford men's volleyball team after their 30-25, 30-20, 30-18 victory over Penn State on Saturday. Stanford is the first team since 2004 to win the regular season, tournament and NCAA title. The win makes this the Stanford Athletic Department's 34th consecutive year with a national title.
The team found inspiration from former Assistant Coach and Nike Volleyball Camp co-director, Al Roderigues, who passed away from stomach cancer on March 19th. With the name "AL" sewn into their uniform sleeves, they used his memory as motivation to continue with this exciting journey and make their dreams of a national title a reality. "We paid tribute to Al in the locker room," Coach John Kosty said. "He's helped us, he's been with us. He would hug every single one of them with a huge smile and big rosy cheeks."
At the 2010 NIKE Boys Volleyball Camps, our campers will have a unique opportunity to train under the guidance of this national championship staff and Stanford athletes. All Skills, Elite High School and Performance High School training programs are available.
About Nike Volleyball Camps
Volleyball is on the rise and never has there been more excitement and opportunity for young athletes to compete and train in the sport we all love. We have over 30 locations nationwide and offer boys and girls volleyball camps for athletes playing at any ability level from beginners to college bound recruits. We offer valuable tools to improve your game and an unforgettable growth experience to those who join us.
Nike Volleyball Camps are part of the US Sports Camps (USSC) network. Headquartered in San Rafael, California, USSC is America's largest sports camp network and the licensed operator of Nike Sports Camps. The company was started in 1975 with the same mission that defines it today: to shape a lifelong enjoyment of athletics through high quality sports education and skill enhancement.
Players, coaches, parents and others interested in the 2010 Nike Volleyball Camps can visit http://www.ussportscamps.com/volleyball or call 1-800-645-3226.
###