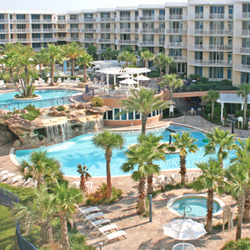 We are fortunate to have such high quality events here on the Emerald Coast
Fort Walton Beach, FL (PRWEB) September 24, 2009
Volleyball competitors and fans will soon crowd the beautiful beaches of Okaloosa Island in Fort Walton Beach. Players compete for merchandise and apparel while supporters cheer them on and sunbathe on the sidelines. Tournaments include the Fall Fudpucker 4 Player, Best of the Beach and Doubles Draw with separate divisions for men, women, coed and even kids. After spending a hard day on the beach, you can kick back and enjoy one of the daily after tournament parties. Make sure to attend the final pool party on Sunday at Waterscape Fort Walton and discover this truly unique vacation resort complete with multiple pools, waterfall, Lay-Z-River™, 490 feet of beach front and more. Additional information about the tournament can be found on the emeraldcoastvolleyball.com website.
"ResortQuest has sponsored the pool party at Waterscape Condos since the spring of 2008 and it has always been a huge success," states Phyllis Shanks Area Manager for ResortQuest and Waterscape. "It's amazing to watch the expression on people's faces when they first enter the courtyard at Waterscape and see the water wonderland".
"We are fortunate to have such high quality events here on the Emerald Coast" states Vickie Warner, Marketing Director for ResortQuest Northwest Florida. "These events are fun for the whole family and provide visitors and local residents the opportunity to interact with each other in a positive venue."
ResortQuest is offering event participants and spectators the opportunity to save up to 20% on eligible Fort Walton Beach Condos located on beautiful Okaloosa Island, including the popular Waterscape. These Gulf-front condos are all conveniently located just minutes from the tournament site. For vacationers who wish to stay in neighboring Destin, ResortQuest also has the best selection of Destin Condos just a short drive away. Persons interested in obtaining accommodations for this event can call our 24 hour vacation hotline at 1-800-380-4808 for reservations and ask for promo code A3007.
About ResortQuest
ResortQuest, one of the nation's leading vacation rentals and hospitality and resort real estate companies, provides a one-stop resource for vacation bookings in premier resort destinations. ResortQuest, your Vacation Home Network, is the largest marketer and management company of vacation condominiums and home rentals in the U.S., based on a portfolio of nearly 10,000 vacation rental properties. With the inclusion of Partner Affiliates in North America and Europe, ResortQuest now offers over 100,000 vacation rental choices in over 140 destinations world-wide. With over a billion in sales, ResortQuest Real Estate is one of the nation's leading real estate companies focusing exclusively on resort properties, offering superior brokerage services in the country's premier beach, ski and golf destinations.
###