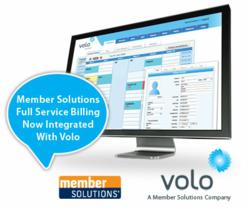 This is only the beginning. We will continue to invest in the Volo application and deliver more exciting features to the fitness world.
Vancouver, Canada (PRWEB) September 12, 2012
Volo Innovations today announced the addition of integrated full-service membership billing and servicing to its fitness business management software subscribers. Member Solutions, Volo's parent company, is a leader in the provision of billing and servicing to membership businesses, and now Volo Innovations clients have access to their world-class offering.
"Our acquisition of Volo Innovations provided us with the ability to offer a great, web-based solution to personal trainers, bootcamp operators and other independent fitness businesses," said Steven Pinado, CEO of Member Solutions. "Now we can also help those businesses operate more efficiently with the integration of our billing and processing solutions. This is only the beginning. We will continue to invest in the Volo application and deliver more exciting features to the fitness world."
By utilizing the full-service billing solution, fitness businesses large and small can reduce their administrative workload tied to billing and invoicing, and drastically increase their collections and revenue capture through Member Solutions' exclusive billing and servicing platform.
"We are thrilled to offer this full-service solution to our clients," says Nikki Layton, Founder of Volo Innovations. "Incorporating Member Solutions' full-service billing gives Volo clients a secure, effective and cost-efficient way to accelerate their cash flow and eliminate time-consuming billing tasks that can eat up a lot of time and money."
Since 1991, Member Solutions has leveraged its proprietary payment processing and servicing platform to become the leader in full-service membership billing for several fitness industry segments. In addition to a U.S.-based, multi-lingual customer care center for member account servicing and management, Member Solutions' full-service membership billing includes:

A self-service website for members to manage their accounts and make payments
Real-time financial, member and activity reporting provided to clients to assist retention and sales efforts
Simple online membership contract entry
Level One PCI-compliant payment processing, the highest level of compliance
About Volo Innovations
Volo Innovations offers online business management solutions for the Health and Fitness industry via Software-as-a-Service (SaaS) technology. Founders Nikki Layton and Barry Duncan have translated their combined 20 years of experience in the Health and Fitness industry into software design that has an inherent respect for real-world situations and practical usability. Volo Innovations is based in Vancouver, Canada. For more information, visit Volo at http://www.myvolo.com.
About Member Solutions
Member Solutions has built its business on an unwavering commitment to serving clients in several fitness categories. The company operates a proprietary payment processing platform and is the leading provider of billing, servicing, and business support to more than 2,500 membership businesses in the United States, Canada, and Australia. The company also offers web-based applications for front-desk member management and online event registration that are fully integrated with its PCI-Compliant payment processing platform. Visit Member Solutions at http://www.membersolutions.com.
For more information, contact:
Nikki Layton
866-303-1038