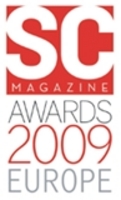 Applying innovation to solving critical problems practically, simply, completely and most cost-effectively is the hallmark of Voltage Security.
Palo Alto, CA, and London, UK (PRWEB) March 4, 2009
Voltage Security, Inc., a global leader in information encryption, today announced it has been named finalist in three categories in the 2009 SC Awards program for North America and Europe. The awards recognise outstanding achievement in information technology (IT) security.
Voltage SecureData was named finalist in the SC Awards UK Best Content Security category, which honors best-in-class information protection. The solution was selected from more than 250 entries submitted in more than 19 technology categories, and winners decided by an expert panel of judges hand-picked by SC Magazine's editorial team for their breadth of knowledge and experience in the information security industry and all major vertical markets.
Voltage customer, Bruce Jones, head of Global IT Security & Risk, Eastman Kodak Company, was named finalist in two SC Awards US Professional Award categories, each recognising outstanding achievement: CSO of the Year and Best Security Team. A panel of 18 chief information security officers at major corporations and large public sector organisations judged nominees.
Kodak's Jones has a long track record as a successful, results-oriented leader. He has implemented leading edge global programs and processes for Risk Management, global Segregation of Duties, and Secure Communications, which have been standardised around the world. Corporate executives, the Board of Directors and colleagues at other corporations have held these up as "best in class" examples of industry Best Practices.
"Voltage is pleased that Bruce Jones of Kodak has been recognised by SC Awards for his vision and excellence in IT and security, and the Voltage SecureData solution for its ability to stop identity theft fast and with minimal disruption or cost to business," said Wasim Ahmad, vice president, Voltage. "Applying innovation to solving critical problems practically, simply, completely and most cost-effectively is the hallmark of Voltage Security."
The annual SC Awards have recognised security's key contributors and outstanding products for more than a decade. As the industry's preeminent awards program, individuals, brands and products shortlisted address not only the challenges prominent today, but also the emerging threat landscape of tomorrow.
Winners of this year's SC Awards US will be announced at a gala dinner and award ceremony to be held in San Francisco on April 21, 2009 (http://www.scmagazineus.com/SC-Magazine-Awards-2009/section/423/ for more details). The SC Awards UK ceremony will be held on the 28th April at the Hurlingham Club in West London, SW6 (http://www.scawardseurope.com for details).
About Voltage SecureData
Voltage SecureData enables companies to stop identity theft and become PCI compliant fast, while dramatically lowering costs. It goes beyond protection of intellectual property to secure critical data throughout the organization in databases and applications. And it enables compliance with complex government and industry mandates like PCI DSS, EU Data Protection, GLBA, HIPAA, FISMA, PIPEDA, SB1386, the Identity Theft Red Flag Rule, and will easily extend to modifications and new regulations.
Voltage SecureData leverages Format-Preserving Encryption (FPE) for information-centric protection of structured data such as credit card and social security numbers, which eliminates the need to change database schemas and business applications. Development lead times and complexity are minimal, as is any disruption to the business and infrastructure. Protection is comprehensive and relatively simple; sensitive information is encrypted as it's collected and stored in databases and used by various applications. Flexible deployment options also allow companies to tackle compliance by priority, and the technology makes it easy to rise quickly to meet new privacy compliance mandates. With Voltage SecureData, an organization's sensitive information is protected at all times and they are freed from liability and damage to the brand.
About SC Magazine
SC Magazine provides IT security professionals with in-depth and unbiased information through timely news, comprehensive analysis, cutting-edge features, contributions from thought-leaders, and the best, most extensive collection of product reviews in the business. By offering a consolidated view of IT security through independent product tests and well-researched editorial content that provides the contextual backdrop for how these IT security tools will address larger demands put on businesses today, SC Magazine enables IT security pros to make the right security decisions for their companies. Besides the monthly print magazine and daily website, the brand's portfolio includes the SC Awards, SC Directory, SC Magazine Newswire and SC World Congress.
About Voltage Security
Voltage Security, Inc., an enterprise security company, is the global leader in information encryption. Voltage solutions, based on next generation cryptography, provide encryption that just works for protecting valuable, regulated and sensitive information persistently and based on policy. Voltage delivers power, simplicity and the lowest total cost of ownership in the industry through the use of award-winning Voltage Identity-Based Encryption™ (IBE) and a new breakthrough innovation: Format-Preserving Encryption (FPE). Voltage Security offerings include Voltage SecureMail™, Voltage SecureData™ and the Voltage Security Network™ (VSN), an on-demand managed service for the extended business network.
Voltage Security is the number one OEM provider of email encryption technology in the world with OEMs that include Microsoft, Proofpoint, Secure Computing, Sendmail, Canon, Code Green Networks and NTT Communications. The Company has been issued several patents based upon breakthrough research in mathematics and cryptographic systems. Customers include Global 1000 companies in banking, retail, insurance, energy, healthcare and government, such as the American Board of Family Medicine, Diebold, Integro Insurance Brokers, NTT Communications, SafeAuto Insurance, Winterthur Life UK Ltd. and XL Global Services. For more information please visit http://www.voltage.com.
Voltage Identity-Based Encryption, Voltage Format-Preserving Encryption, Voltage SecureMail, Voltage SecureFile, Voltage SecureData and the Voltage Security Network (VSN), are registered trademarks of Voltage Security, Inc. All other trademarks are property of their respective owners.
###