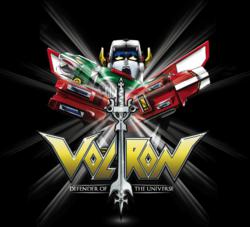 Voltron: Defender of the Universe is back on primetime on MYX TV
Redwood City, CA (PRWEB) April 21, 2011
In the 80s, one anime cartoon invaded homes with robots that were loved by good, feared by evil. After blazing onto TV screens in 1984, Voltron: Defender of the Universe quickly became a top-rated animated series. The hit series inspired a best-selling toy line and made Voltron a pop culture icon. MYX TV proudly brings back Voltron: Defender of the Universe in its original form, on primetime. The series premieres on April 25th and will air Monday through Friday, 7:30pm ET/4:30pm PT on MYX TV.
Voltron features a team of five brave pilots, known as the Voltron Force, whose individual lion robots join together to form a giant super robot as they defend the galaxy from evil. The classic show was adapted from a Japanese anime series.
"We couldn't be happier to bring the classic episodes of Voltron back to our fans, and to MYX TV, a perfect outlet for our content," says Tiffany Ilardi, Managing Director, World Events Productions. "With such a big year ahead of us, including a new Voltron series debuting in June, we can't think of a better time for this partnership."
Catch Voltron on MYX TV. Visit http://www.myx.tv for channel listings.
ABOUT MYX TV®:
With its U.S. headquarters in Redwood City, California, MYX TV was developed by ABS-CBN International, a subsidiary of ABS-CBN Corporation, the Philippines' largest entertainment and broadcasting company, through ABS-CBN Corporation's wholly-owned subsidiary, ABS-CBN Global Hungary Kft. MYX TV is the premier music entertainment and lifestyle channel dedicated to the Asian American community, utilizing music, culture and entertainment. MYX TV can be seen on Channel 368 on Comcast's Digital Preferred Tier in the San Francisco Bay Area and Central California and Channel 673 in Chicago, Cox Digital Basic Cable Channel 479 in Orange County and Channel 474 in Northern Virginia, MCV Cable Channel 16 in Guam and RCN Channel 464 in New York City, Chicago, Boston, Philadelphia and Washington, DC. It is available nationwide on DirecTV channel 2067. For more information, visit http://myx.tv.
About World Events Productions:
St. Louis-based World Events Productions, Ltd. (WEP) has produced and distributed children's animation for over 25 years. WEP is the IP holder for shows including: Voltron, Defender the of the Universe, Voltron: The Third Dimension, Denver the Last Dinosaur, Saber Rider and the Star Sheriffs and Vytor the Starfire Champion, among others. WEP is a Koplar Communications company. WEP is represented by United Talent Agency. For more information visit http://www.wep.com and http://www.voltron.com.
# # #