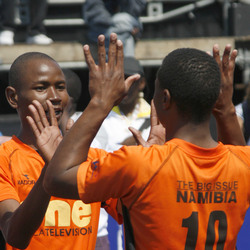 London, England (PRWEB) July 18, 2008
Hands Up Holidays the voluntourism operator that blends eco-sightseeing with meaningful taste of volunteering experiences, is lending its support by encouraging travellers to combine a fantastic holiday exploring the best of Australia and also giving something back with an enriching volunteering experience for a week at the tournament.
The volunteer adventure is exclusively hosted by Hands Up Holidays and is called 'Kickin'it'; it will run from 29 Nov - 15 Dec, 2008.
The Homeless World Cup (http://www.homelessworldcup.org) is an annual, international football tournament, uniting teams of homeless, excluded individuals in a once in a lifetime opportunity to represent their country and change their lives. The event attracts around 25,000 people who take part in training and trials around the world, with the top 500 players from 48 nations competing at the Homeless World Cup.
Supporters of the tournament include UEFA, Nike, the UN, Manchester United, Real Madrid, Eric Cantona and international footballers Didier Drogba and Rio Ferdinand.
The impact on player's lives is enormous with around three quarters of players changing their lives for the better by coming off drugs and alcohol, getting jobs, an education, homes, training or being reunited with their families. Some even go on to become players and coaches for pro or semi-pro football teams.
Participants on this Hands Up Holidays voluntourism trip will help in the following areas:

Catering Assistants - ensuring the 500 players are fed and watered pitchside, at their accommodation and in the lounge
Media Assistants - live match reporters, match photographers, media accreditation
Accreditation Monitors - enforcing the accreditation system at key access points
The voluntourism itinerary highlights include:

A week's taste of volunteering at the Homeless World Cup
Sightseeing in Sydney, the Blue Mountains and the Great Barrier Reef
Extension excursions to include the Whitsunday Islands, Daintree Rainforest, Uluru and Kangaroo Island
This 16-day volunteer adventure costs c.US$3,150 per person and includes three star accommodation throughout, eight days taste of volunteering plus sightseeing as per the itinerary.
International and domestic flights are not included but can be arranged.
For more information, visit Kickin'it. For general information about Hands Up Holidays, visit Hands Up Holidays
NOTE TO EDITORS:
HANDS UP HOLIDAYS, the voluntourism operator who believes that travel can make a positive difference, offers a selection of 150 trips to 32 destinations blending travel with meaningful voluntourism experiences.
ALL CARBON EMISSIONS FROM FLIGHTS ARE OFFSET - Hands Up Holidays, partnered with Climate Stewards, pays to have trees planted or for other energy efficient solutions to be provided to guests.
PUTTING PROFITS BACK - Hands Up Holidays gives at least 10% of its profits back to its project partners for further community development.
PARTNERS include Rotary International and Tear Fund. Hands Up Holidays is also a founding member of the Ethical Tour Operators Group and an affiliate member of Green Globe.
HANDS UP HOLIDAYS was awarded Best Responsible Travel website in the 2008 TravelMole Awards in London, England.
###