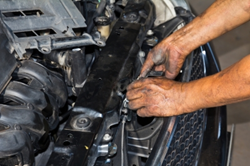 The P80 platform vehicles are now supported through our website for complete engine replacements, and we expect to include more types this year
Midland, TX (PRWEB) August 21, 2015
The Volvo brand of motor vehicles will now be supported for used replacement components at the DieselPartsFinder.com company online. The company is now including Volvo 850 2.5L engines with its expanded inventory of diesel powered car components. More details about exact VIN numbers in stock can be found at http://dieselpartsfinder.com.
The units that are being made available for purchase were manufactured between 1991 and 1996. The editions are either standard or AWD versions that can be matched by model number when exploring the DPF search system on the homepage. The D5252T I5 units will be delivered after purchase from selected diesel parts distributors.
"The P80 platform vehicles are now supported through our website for complete engine replacements, and we expect to include more types this year," said one rep at the DieselPartsFinder.com website.
The turbo estate and GLT vehicles that used the 2.5-liter motors by Volvo were each built with two types of transmissions. Consumers who will swap out a D5252T block can have questions about compatibility. The Diesel Parts Finder company has validated that the standard 5-speed transmission will work correctly with the used edition 850 engines now in stock.
"The diesel engines that are for sale on our website are now a part of our growing parts department that features more European brands," said the rep.
The DPL company website has been revised to include the new components search section this month. Different components are being added daily and feature the current stock status. Consumers who utilize the research platform will now be presented with highly accurate data.
About DieselPartsFinder.com
The DieselPartsFinder.com company is now one of the largest web sources to find components for cars, trucks, vans and industrial diesel powered equipment. The company acquires inventory from secondary market sellers to list in its searchable database. The DieselPartsFinder.com company provides easy methods for locating prices and details about warranty data for consumers who purchase used condition replacement parts.