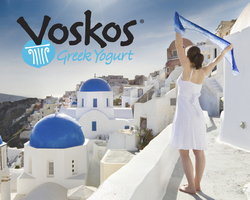 Rewarding fans with three easy ways to save money, win goodies, and look up store locations on our Facebook helps us serve our consumers directly and immediately.
Sun Valley, CA (PRWEB) February 2, 2011
Voskos Greek Yogurt, America's award-winning Greek yogurt recently launched its social media platform to virally promote healthy living, build a loyal and interactive community, offer digital coupons, and a getaway for two to Greece with its sweepstakes.
Try It! Like It! Love It!(TM), a very popular feature found in one of the four custom Facebook tabs, offers fans instant gratification. Fans who want to try or already like Voskos can easily print digital coupons to save $0.75 and $1.00, respectively. For the more ambitious who love Voskos and want a free product, s/he who refers three new fans to Voskos can fill out a quick request form found on the Coupons/Recipe tab.
Contest/Polls, another popular tab, features the Sweepstakes and three recurring contests: Freebie Fridays, Quizzical Quizzes, and Monthly Madness. Fans may register for the Sweepstakes for a chance to win a trip for two to Santorini, Greece through March 31st. Freebie Fridays awards the first five fans who answer the trivia questions correctly with a 30-day supply of Voskos. Quizzical Quizzes trivia occurs once a month while Monthly Madness encourages fans to share their creations in bold new ways and directly submit pictures or videos for their friends to vote, depending on the contest theme. In addition, the Voskos Curious Minds WantTo Know Poll(TM) picks their brains on product and lifestyle questions for on-going product and service improvements. These contests and the entire fan page serve to spread the love of Voskos Greek Yogurt, share appetizing recipes contributed by bloggers and fans, weigh in on health and nutritional related topics and help like-minded individuals connect.
"We pride ourselves on having very dedicated fans; they send us love letters and post testimonials on our Facebook wall. Now, rewarding them with three easy ways to save money, win goodies, and look up store locations and product information on our fan page helps us serve our consumers directly and immediately. These are some of the ways we're giving back to our fans," says Vanessa Nielsen, director of marketing. "Because Voskos was the first Greek Yogurt brand produced in the US, we take this leadership mission seriously by leveraging one of the most popular and powerful social network mediums today," adds Nielsen.
About Voskos Greek Yogurt
Award-winning for its thick, rich taste and nutritional value, Voskos Greek Yogurt is all-natural, hormone-free, gluten-free and Kosher certified. Through Voskos' proprietary ProStrain™ method, Voskos yields 2x more protein, more probiotics, less lactose, and a thicker, creamier consistency. Voskos is the first Greek yogurt brand manufactured and distributed in the US and is the only brand to offer an organic Greek yogurt line in addition to its all-natural plain and blended flavors and never has "fruit on the bottom". Available nationwide. Products retail between $1.49 - $2.99. For store locations, nutrition information, healthy Greek yogurt recipes and to download a coupon, visit voskos.com or facebook.com/voskosgreekyogurt today.
# # #