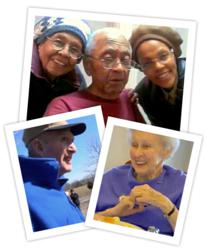 The contest is part of the Home Instead Senior Care network's "Changing Aging through Research and Education(SM)" (CARE) Training Program, offered to families at no charge.
Omaha, NE (PRWEB) April 03, 2012
There's nothing divisive about a very special election that is now under way. In fact, there are no party affiliations, no debates and no campaign rhetoric. A voter's decision comes after watching video or reading the stories from three finalists who have poured out their hearts while describing how Alzheimer's disease has impacted their lives and those of their senior loved ones, and why memories are important to their families.
The three national candidates – from Ohio, Kansas and Colorado – already moved through a "primary election" of sorts last winter in the Home Instead Senior Care® network's "I Will Remember for You(SM) Family Reunion Contest" after some 267 heartrending stories were vetted through an elimination process. Now comes the part in which the public will select the Grand Prize winner, who will earn a $10,000 family reunion, compliments of Home Instead, Inc., franchisor of the Home Instead Senior Care network. Online voting will be conducted at the Remember for Alzheimer's Facebook page through June 30, 2012.
The contest is part of the Home Instead Senior Care network's Alzheimer's Disease or Other Dementias CARE: Changing Aging Through Research and Education(SM) Training Program. Holding on to memories is an important part of continuing a family's legacy and helping to engage older adults with Alzheimer's in daily life. Family videos and photo books recall happy occasions for seniors who are struggling with short-term memory loss that characterizes Alzheimer's disease and other dementias.
The no-cost CARE program, which is available to families at their local Home Instead Senior Care office or through online e-learning modules, provides an innovative approach to preserving memories and gives family caregivers the tools to help capture a senior's past to better manage the challenging Alzheimer's symptoms and behaviors that are a part of Alzheimer's disease and other dementias.
So, too, does a family reunion honor that individual who has lost so much of their past. Among the finalists, one story shined the spotlight on a grandmother whose grand sense of humor also revealed an unfailing unconditional love and great gift of practical advice. Or consider the busy, all-hours farmer who also had a livestock operation while providing a granite foundation for a family of seven children and a wife who has never left his side. Then there is the dad who sacrificed so much so his wife and children could secure college degrees. His status as the ultimate honorable role model extended to his entire neighborhood.
"These are three finalists among the many families who submitted their poignant stories, but we also know there are nearly 15 million people in America who every day make the same sacrifices, share the same love for their seniors and also do it without pay. And that number will continue to grow for a good while,'' said President and Chief Operating Officer (COO) Jeff Huber of Home Instead, Inc. "Our contest is really a way of honoring all of those people who tend to a senior loved one with Alzheimer's disease or other dementias. To us, they are all winners."
ABOUT HOME INSTEAD SENIOR CARE
Founded in 1994 in Omaha by Lori and Paul Hogan, the Home Instead Senior Care® network is the world's largest provider of non-medical in-home care services for seniors, with more than 950 independently owned and operated franchises providing in excess of 45 million hours of care throughout the United States, Canada, Japan, Portugal, Australia, New Zealand, Ireland, the United Kingdom, Taiwan, Switzerland, Germany, South Korea, Finland, Austria, Italy, Puerto Rico and the Netherlands. Local Home Instead Senior Care offices employ more than 65,000 CAREGivers(SM) worldwide who provide basic support services – assistance with activities of daily living (ADLs), personal care, medication reminders, meal preparation, light housekeeping, errands, incidental transportation and shopping – which enable seniors to live safely and comfortably in their own homes for as long as possible. In addition, CAREGivers are trained in the network's groundbreaking Alzheimer's Disease or Other Dementias CARE: Changing Aging Through Research and Education(SM) Program to work with seniors who suffer from these conditions. This world class curriculum also is available free to family caregivers online or through local Home Instead Senior Care offices. At Home Instead Senior Care, it's relationship before task, while continuing to provide superior quality service that enhances the lives of seniors everywhere.
Additional information about the company is available from Erin Albers, local PR and marketing director, and from Home Instead Senior Care's online press kit.