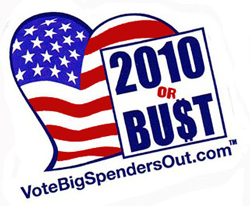 We are very excited to be able to share these statistics
Arizona (Vocus) October 6, 2010
The nonpartisan organization, 2010 OR BU$T, has launched a public information website at VoteBigSpendersOut.com. As an impartial, grassroots group whose views remain neutral, their site focuses only on statistics surrounding our national debt and the spending each Member of Congress voted for. The comprehensive resource-site provides information to help individuals decide for themselves how best to vote in the upcoming midterm federal elections.
"We are very excited to be able to share these statistics," states 2010 OR BU$T organization founder, Michael Roda, "because no matter what your political affiliation or opinion is, Congressional spending and the national debt effects every single American."
The information is compiled in clear and concise "Spender Tables" that show spending in excess of revenue in Congressional bills which include $90 million or more. The tables list net spending for each Member of Congress in both the House and the Senate during 2009, year-to-date 2010 and a combination of the 2 years. Spending is presented alphabetically, by state and by spender rank.
The overall goal is to create a more informed public and give the people as many resources as possible. Along with the comprehensive Spender Tables, their website also provides additional links and information concerning the national debt and government spending topics.
"The project has taken over a year to research, compile, verify and launch," says Roda. The resulting website is a culmination of ideas, time and efforts by their volunteer Advisory Board which consists of ordinary citizens from varying backgrounds and political affiliations. "Everyone went beyond my expectations," adds Roda. "We were driven by a strong common desire to open the American public's eyes, and let Congress know that we are watching how they spend our money!"
###