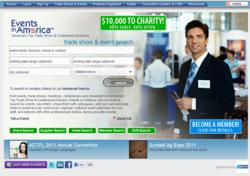 "All we ask is for people to visit our site and choose the charity to receive the $10,000 donation."
St. Louis, MO (PRWEB) May 10, 2011
"Non-profit organizations are struggling in today's economy. It's a tough environment and they need all the assistance they can get," says Mark Travers. "This is our way to help."
Travers is the publisher of EventsInAmerica.com (http://www.EventsInAmerica.com), the most comprehensive online directory of tradeshows, meetings, conventions and conferences in the United States. He's prepared to write a big check in the amount of $10,000 to one charity if two things happen:

1 million people visit http://www.EventsInAmerica.com between now and December 30, 2011, and
One of the 8 charities listed on the site attracts 50% or more of all votes cast.
So Travers wants everyone in the trade show and meetings industry to visit the site and vote. Anyone can vote for the charities listed. There's no purchase necessary to vote. And people can vote multiple times. "Tell your friends to vote. Tell your co-workers to vote. Send out tweets on Twitter and add posts on Facebook. As they say in Chicago, 'vote early, vote often," says Travers.
Which are the charities in competition to receive the $10,000 donation? The 8 are:
"Each of these organizations performs wonderful and essential services to their constituents," says Travers. "Each is worthy of our support. All we ask for people to do is to visit our site and tell us which one they think should receive the donation. There's nothing else required."
The non-profit organization that attracts 50% or more of all votes cast by December 30, 2011 will receive a $10,000 donation from Events In America, LLC. If none of them attracts a majority, Events In America will contribute $1,250 to each – if a million or more people visit the site by the designated time.
Additional Incentives & Contributions
EventsInAmerica.com is America's Trade Show & Conference Directory.SM The site compiles the tradeshow information users want, with the tools they need, in a quick-read format, faster and at less total cost than any other events site.
EventsInAmerica.com offers extensive details on over 13,000 tradeshows, conferences and conventions, in 14 major industries and 150 sub-categories, and gives users tools to:
See extensive information on each event
Search multiple industries at one time
Search by date, location, size of audience and other criteria
Build and save customized lists of events
View saved events in calendar form
Sync event calendars to Outlook and iCal
Add private notes to event records
Network with other subscriber-members
Create Requests for Proposal (RFPs)
Get new business leads, and more.
An annual subscription to the site is $149. While there's nothing to purchase in order to vote, Events In America is offering a "20/20" incentive to try its service. "We're giving $20 off the annual membership price (with the special Promo Code) to any new or renewing member AND Events In America will contribute another $20 to the charity of the new member's choice." Here's how to take advantage of the 20/20 offer:
1. Visit the sign up page at: http://www.eventsinamerica.com/signup-member.html
2. Complete the sign-up form and, in the Promo Code box, enter: CH2011
3. A drop down box will open that will list all 8 of the charities
4. Choose one of the 8.
5. Click 'Submit,' and complete the credit card transaction. The new subscriber will save $20 off the annual membership price and Events In America will contribute $20 to the organization the new member selected.
"It's really a win-win for everyone," says Travers. "The new member will have access to one of the very best tools in the events industry and save $20 right on the spot. And the charity will collect a matching $20 from Events In America, LLC."
EIA's Prime Users
Who uses EventsInAmerica.com? Entrepreneurs looking for new business opportunities, corporate sales and marketing executives, event planning firms, PR firms and ad agencies, plus those in the travel, trade show and tourism industries including hotel chains, airlines, car rental agencies, restaurants, credit card companies, exhibit booth designers, equipment rental firms, shipping providers and more.
Mark Travers says, "Anyone who plans, attends, exhibits at or supplies to trade shows, conferences, meetings and conventions will find EventsInAmerica.com to be one of the best planning and research resources they've ever used."
# # #