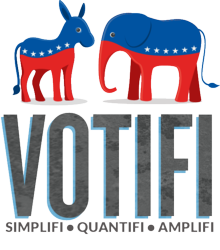 Votifi is the next generation in the intersection of technology, politics and social media.
Washington, DC (PRWEB) March 09, 2012
Votifi, a mobile-based political polling and analytics company, is a finalist in the fourth annual South by Southwest (SXSW) Accelerator at the 2012 SXSW Festival in Austin, Texas. Launched in June 2011, Votifi is an innovative platform that promotes engagement on political issues across social and demographic divides. Votifi will demo its technology on March 12 and 13 at the Austin Hilton, in an event that will also be broadcast live at http://sxsw.com/accelerator/live.
"We are excited to participate in SXSW," said Lou Aronson, founder and CEO. "Votifi represents the next generation in the intersection of technology, politics and social media, and we are honored to have the opportunity to demonstrate our role in this rapidly evolving arena."
Votifi was also selected as one of thirty-three participants in the TechCocktail SXSW #StartUpLife Celebration presented by .CO, taking place in Austin on March 10. At #StartUpLife Votifi will showcase its platform to a panel of over 40 judges representing leading angel investors, VCs, and technology writers and bloggers.
Throughout SXSW, Votifi will be running the SXVOTIFI survey project to capture the social, cultural and political pulse of SXSW participants. This project will demonstrate Votifi's capabilities in defining the demographics, tendencies and "issue threads" of those who both attend and observe SXSW. Results of the survey project will be announced throughout and at the conclusion of the festival.
Votifi will launch its iPhone application at SXSW. The app provides political information and a platform to amplify the voice of the mobile voter. The Votifi app was developed by MOBOMO.COM of Bethesda, Maryland and its founder Barg Upender. The MOBOMO team lead by Brian Lacey has worked diligently to ensure a successful and timely SXSW launch.
SXSW is an annual festival of music, film and technology that takes place in Austin, Texas. Out of 670 companies that applied to compete in the SXSW Interactive Startup Accelerator, Votifi was selected as one of eight finalists in the Social Media & Social Networking category and one of 48 companies invited to participate. The Accelerator competition is sponsored by Microsoft BizSpark, HTC, The John S. and James L. Knight Foundation, Turner Broadcasting, and .net.
About Votifi
Votifi was established in 2011 by the team of Lou Aronson, Dr. Vijay Perincherry, Sid Smith, Brett DiResta and Aasil Ahmad. Votifi is a mobile polling and analytics company that facilitates political exploration and network building. We discern users' points of view to facilitate peer-to-peer connections across political and social boundaries. By amplifying people's voices, Votifi changes the dynamic between elected officials and the public. Votifi provides its users with their own personal, virtual, mobile soapbox for political engagement. For more information about Votifi please visit http://www.votifi.com or send email to press at votifi dot com.